Clear Eyes, Full Heart, Can't Use: Did Mitt Romney Plagiarize 'Friday Night Lights'?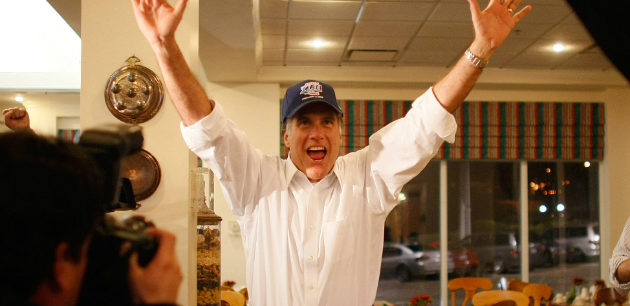 Politicians have long appropriated pop culture to lend their campaigns relevancy and catchy hooks, so it wasn't unprecedented when Republican nominee Mitt Romney began using the popular Friday Night Lights catchphrase "Clear eyes, full heart, can't lose" in his bid for the Presidency. That doesn't mean filmmaker Peter Berg has to be happy about it.

In an open letter to Romney, Berg — who directed 2004's Friday Night Lights, adapted from H.G. Bissinger's book about a small Texas town obsessed with football, and created its subsequent spin-off television series — slammed the former Governor of Massachusetts for using the now-famous FNL line.
"Your politics and campaign are clearly not aligned with the themes we portrayed in our series," wrote Berg, who described the citation as plagiarism.
Via EW:
Governor Romney:

I created the TV show "Friday Night Lights" and came up with the phrase "Clear Eyes, Full Hearts, Can't Lose."

I was not thrilled when I saw that you have plagiarized this expression to support your campaign by using it on posters, your facebook page and as part of your stump speeches. Your politics and campaign are clearly not aligned with the themes we portrayed in our series.

The only relevant comparison that I see between your campaign and "Friday Night Lights" is in the character of Buddy Garrity — who turned his back on American car manufacturers selling imported cars from Japan.

Your use of the expression falsely and inappropriately associates "Friday Night Lights" with the Romney/Ryan campaign. Mitt, we all wish you and your family all the best. We are grateful for your support of our beloved show, but we are not in any way affiliated with you or your campaign. Please come up with your own campaign slogan.

Sincerely,
Peter Berg.
To be fair, President Obama's campaign also used the slogan, albeit less overtly and on Tumblr.
I guess that was at least football-related, and therefore more closely aligned with the themes Berg & Co. portrayed in their series.
[EW]
Follow Jen Yamato on Twitter.
Follow Movieline on Twitter.