TRAILER: Jessica Chastain Hunts Bin Laden In Kathryn Bigelow's 'Zero Dark Thirty'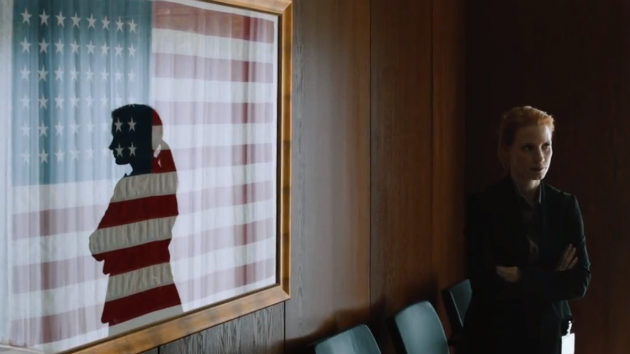 While there's no shortage of burly action hero types in Kathryn Bigelow's Zero Dark Thirty, it's Jessica Chastain who's front and center hunting down Osama bin Laden in the first trailer — and that in itself is worth noting as you mark your calendars for the December Oscar contender.

I mean, how fantastically striking is the above image of Chastain, her shadow, and the American flag? Chastain plays a CIA operative attempting to locate the al-Qaeda leader, who was killed while in hiding in Pakistan nearly ten years after the 9/11 attacks.
Chastain is joined by Mark Strong, Kyle Chandler, Chris Pratt, Joel Edgerton, and more in the tale of how a global network of operatives joined forces to bring bin Laden down. Bigelow and screenwriter Mark Boal's research for the film had come under scrutiny by right wing watchdogs, though that flap has died down in recent months. Expect buzz to start back up again, only of the gold statue kind.
Zero Dark Thirty hits theaters December 19.
Synopsis:
For a decade, an elite team of intelligence and military operatives, working in secret across the globe, devoted themselves to a single goal: to find and eliminate Osama bin Laden. Zero Dark Thirty reunites the Oscar(R) winning team of director-producer Kathryn Bigelow and writer-producer Mark Boal (The Hurt Locker) for the story of history's greatest manhunt for the world's most dangerous man.
[via iTunes]