PHOTO: Portman & Fassbender's Malick Embrace Interrupted By Lizard Man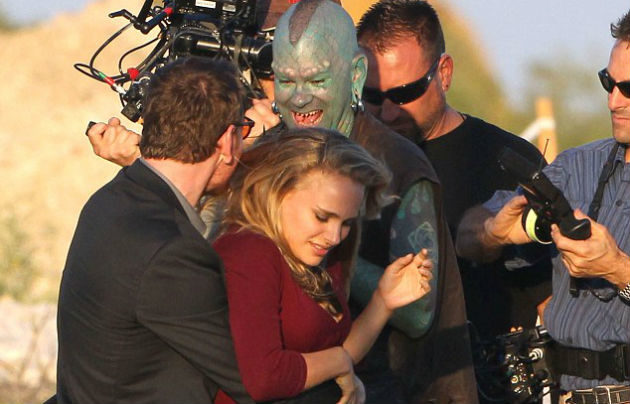 Your guess is as good as mine as to what the heck's going on in new set photos from Terrence Malick's latest picture, in which Natalie Portman and Michael Fassbender appear to be getting down to lip-locking in a field... and are interrupted by a green lizard man with "FREAK" tattoed across his chest. What's Terry up to down in Austin?

The untitled Malick film follows To The Wonder and Knight of Cups in the filmmaker's suddenly hyperproductive recent filming tear and is about sexual obsession and lusty betrayal in the Austin, TX music scene. Or, as you might imagine, a Friday night on 6th Street during SXSW.
But, more importantly! In the new batch of set pics Portman and Fassbender get wrapped up in each others' arms, a bit more passionately than co-stars Rooney Mara and Ryan Gosling did in their previously snapped scenes. They gaze into each others' eyes. He dips her onto the ground. And then... The Lizardman startles PortBender out of their embrace!
(He's Austin fixture Erik Sprague, self-professed "professional freak," and he has a split tongue. Perhaps a little local flavor to keep the Untitled Terry Malick Sexytime Picture weird?)
Also in Malick's film, formerly titled Lawless: Christian Bale, Cate Blanchett, Haley Bennett, and Holly Hunter. Stay tuned as the internet continues trying to figure out Malick's secrets down in Texas.
[via Daily Mail]