REVIEW: Bloody Here Comes the Boom Gets Lazier As Kevin James Loses Brain Cells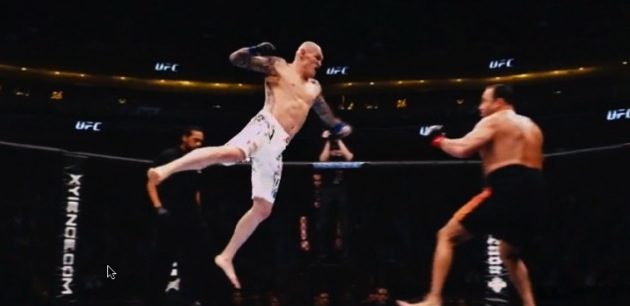 The first half hour of Here Comes the Boom is so good moviegoers might be fooled into expecting something better than an obvious wish fulfillment fantasy so patently implausible it's almost insulting. Sadly, those moviegoers would be wrong. Star, producer, and co-writer Kevin James creates a witty, confident everyman in the first act, only to sacrifice him to the pic's demands for formula and sentimentality thereafter.

James plays Scott Voss, a Boston high school biology teacher sunk in a bog of laziness and apathy. He's the kind of cartoonishly bad educator who arrives late to class every morning and ignores his students while reading the paper with his feet propped on his desk. Yet Scott's extremely likable all the same:  he's smart, funny, and not too jaded to be inspired by Marty (Henry Winkler), the goofy but saintly music teacher. There's even a hint of sexual charisma in his failed flirtations with the school nurse (a pleasingly age-appropriate Salma Hayek).
The plot gets rolling when the principal (Greg Germann) announces that budget cuts will force the imminent shutdown of the music program. Knowing that Marty is the school's best teacher, and the father of a surprise late-in-life baby, Scott vows to raise the $48,000 needed to keep the music program running. This promise first leads him to teaching citizenship classes at night school, then inexplicably becoming a cage fighter.
Here's a thought experiment: Is there any way Scott's four-month journey from middle-aged lug with a few spare tires to mixed-martial artist fighting against professional pugilists half his age could work? Maybe if James was replaced with Tom Hardy or one of the Expendables in their prime. James' arms are as thick as most men's calves here, but he still looks more like he's eaten a professional fighter than become one. It doesn't help that the movie makes the mistake of having Scott recover as quickly as Wile E. Coyote, further defying its viewers' suspension of disbelief.
Scott's hare-brained scheme to join the UFC world doesn't just give the film a serious plausibility problem. It also lowers the character's IQ by several dozen points even before his opponents punch him repeatedly in the head. Scott just doesn't seem as smart afterward. The jokes get lazier too. The sharp zingers of the first act are blunted into broad gags, though the pic's one gross-out scene — which stems from James' consumption of a batch of bad homemade applesauce — is a hilarious surprise.
Worst of all, the sheer unlikelihood of Scott's victory sends the movie on the fast track to Clichéville, where underdogs win every fight and all fat slobs are secret mensches who deserve hot tamales like Hayek.
Luckily, Here Comes the Boom has retired UFC fighter and sports personality Bas Rutten to inject some wild-card energy back into the film. A craggily handsome Dutch giant with a body built for hurting, Rutten is an UFC superstar and one of the hyperviolent league's most winsome advocates. He's also a delightfully affable screen presence and pretty much saves the film from drowning in its own cheesiness. Rutten plays Nico, a former fighter and current aerobics instructor who's a student in Scott's citizenship class. Nico doesn't think Scott has what it takes to succeed as a MMA fighter, but he's a supportive friend and a dedicated coach.
Rutten's character comes with an injured neck in his backstory, so the only ones duking it out in the ring are James and some anonymous muscleheads. The fight scenes are cursory and exist only to trace plot points, not to provide visceral thrills. There's no movement, no chase, and thus no pleasure. The film's climactic brawl, between Scott and a tattooed tornado of muscle (MMA fighter Krzysztof Soszynski), is shot UFC-style, at close range with leering, lo-res cameras. The black wire cage that locks the fighters in the ring feels claustrophobic. And yes, there is an alarming amount of blood.
Despite its reliance on well-worn tropes, Here Comes the Boom feels like a risky project, and in many ways like James' first adult movie despite its PG rating. The movie gives the genial actor a makeover by knocking out Paul Blart: Mall Cop and Zookeeper and replacing them with an edgy tough guy who sweats blood and knocks strangers out cold. You know, for the children.
It's that weird dichotomy between gooey values and enthusiastic violence — both the character's and the film's — that makes Here Comes the Boom so schizophrenic — and therefore, so interesting. It's too bad the film's far-fetched premise will mean few viewers will be eager to swallow James' strange concoction of sugar and blood.
Inkoo Kang is a Boston-based film journalist and regular contributor to BoxOffice Magazine whose work has appeared in Pop Matters and Screen Junkies. She reviews stuff she hates, likes, and hate-likes on her blog THINK-O-VISION.
Follow Inkoo Kang on Twitter.
Follow Movieline on Twitter.