The One Thing Nicole Kidman Wouldn't Do For Lee Daniels' The Paperboy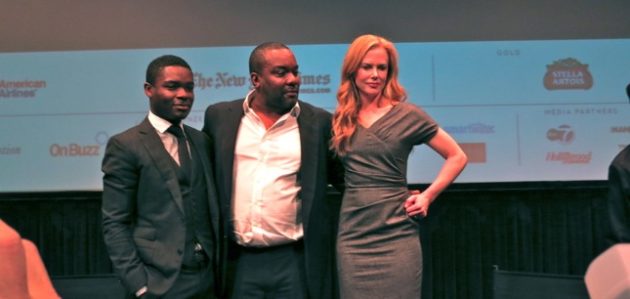 All decked out, Nicole Kidman received a gala tribute at the New York Film Festival Wednesday night ahead of the U.S. premiere of her latest starrer, The Paperboy, directed by Lee Daniels. Appearing like audiences have never seen her before, Kidman said she pushed her boundaries in the role in which she plays a sultry vixen who is carrying on with a convicted murderer in prison (played by John Cusack). Kidman opened up about the role and why she decided to take on the part which required her to — among other things — spread her legs and even pee on fellow co-star Zac Efron; she also shared why she never spoke to John Cusack on the set outside of their characters. But despite pushing herself into admittedly uncomfortable territory, there was one thing she would not do.

Initially, Kidman did not think she could pull off the part. Daniels had her meet with five women who have had relationships with men in prison. Unsure of herself, she said the experience allowed her to find he way to the character with some encouragement from one of the women.
"I was kind of freaking out and didn't think I could be authentic in this role. And then, one of them said to me, 'No, I think you can do this.' And she kind of gave me that confidence. And after that, it sort of just flowed out of me. I didn't want a sense of myself in any way, so I went straight into the character and never stepped out of it."
Based on a novel by Pete Dexter, The Paperboy is set in late '60s/early '70s Florida. Kidman plays Charlotte Bless, who sashays with a period-fabulous wardrobe, fake eye-lashes and pillowy lips. She's the object of young Jack's (Efron) affections. He's a young guy who's aimless and living with his dad and soon-to-be stepmother. His older brother (Matthew McConaughey) is a journalist who comes to town to investigate death-row inmate Hillary Van Wetter's (Cusack) conviction, who he believes is actually innocent. Meanwhile, love-struck Charlotte is in a tither trying to get her man out of jail — and then things grow very strange…
"I never got to know John Cusack through the shoot," said Kidman. "I never knew John [at all, in fact] and that's when I [decided] I'm not going to get to know John. I wanted to deal with him as the character and have him deal with me as the character. I never, never spoke to him through the shoot as John, and that was a great way [to do this]. At the very end of the shoot he came to my trailer and he said, 'Hi, I'm John' (laughs). It was great!"
While playing Charlotte, Kidman was very careful not to judge her. Because of the production's very tight budget, Kidman — an A-lister who is one of the world's most photographed actresses — said she went to second-hand stores and picked up $5 frocks and shoes ahead of the shoot in New Orleans and physically and figuratively assembled Charlotte's persona. After picking her accent and look, she stayed with the character even after the day's shoot ended.
And there was one physical trait filmmaker Lee Daniels wanted from Kidman. "Lee was obsessed with the butt," said Kidman. "He wanted my butt to be bigger. I said, 'I can do that…'"
Continuing about her character she added, "I don't see her as crazy because I see very few people as crazy. For me, she's a woman who's obviously very damaged. And she's scared of intimacy, which is the common thread for people who [form] relationships with people in prison. But once they get out, it's often very different, which was something interesting for me."
Lee Daniels, the Oscar-nominated director of Precious (2009), who is African-American, said he felt racial tension while filming Paperboy in Louisiana's bayous. The tension prompted him to ask Nicole Kidman to use the n-word in one scene, but she drew the line there.
"I didn't think it was right for the character honestly," she said. "And I have a son who's African-American. But the other stuff, I think the whole thing I try to do as an actor is fulfill a director's vision. I have opinions and I'm there to stimulate and ignite things in the director, hopefully, but I've never tried to pull a director off his vision. So, the spreading the legs and all that were fine because I wanted to please Lee."
The Paperboy begins its theatrical run this Friday.
Follow Brian Brooks on Twitter.
Follow Movieline on Twitter.