Soon-To-Be-Departing Co-Chair Tom Rothman Lively Over Pi, Robopocalypse At New York Film Festival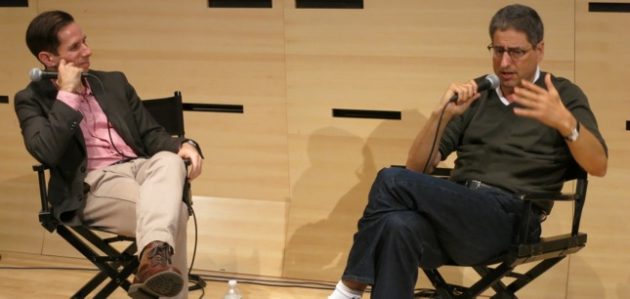 Fox Filmed Entertainment co-chairman Tom Rothman hit headlines two weeks ago when an announcement came from the studio that the 59 year-old would exit the studio at the end of the year, effectively ending a longstanding pairing with fellow co-chairman/CEO Jim Gianopulos. News soon came out that he'll produce Steven Spielberg's next project, Robopocalypse. At a New York Film Festival event over the weekend, Rothman remained tight lipped about casting rumors surrounding the feature.

Rothman told Movieline he couldn't "comment on rumors" when asked about the possibility of Anne Hathaway starring in the feature. Asked if he personally wanted Hathaway to come on board, he replied, "This isn't my first rodeo," before dropping the topic.
He did, however, tout Ang Lee's Life of Pi, which opened the event Friday, which Fox will release Nov. 21, one of the last major releases to happen under his watch.
At a Q&A session at the Elinor Bunin Munroe Film Center at Lincoln Center on Sunday, Rothman said that he and Lee did not "conceive of Pi as a 3-D movie, saying the technicalities involved with a film of that nature pose particularly hard challenges. "Ang's reason for it was emotion, it wasn't visual," said Rothman. "It was to try to enhance the audience connection with that character's emotional journey. And that's the way when you see the film, you see that the 3D is used." Rothman added, "If we're lucky enough that the film succeeds...I think [it] may open a new willingness and a new understanding about 3-D."  Rothman explained that Lee's "genius in this was using the 3D to enhance how Pi felt and how the audience feels being with him on that journey."
Rothman said little about his pending surprise departure. Although he was involved with two of the biggest box office hits of all time, Avatar and Titanic, he noted he had some bombs during his tenure, but he said box office success typically adheres to "movie universals" and their emotional impact on audiences.
"We're not talking about all my bombs, that's a subsequent discussion, and they just kicked me out after all these years so – I'm far from perfect, believe me!" said Rothman laughing. "But there are certain things and what I call them – there are movie universals. You look for the universal and the specific. Ultimately, it comes to what is emotionally moving about it. The biggest wildest comedy I did, There's Something About Mary, when you look at that comedy – as explosively funny as it was – it makes you feel warm and good. Tragedy, yes, but is there heroism in the tragedy? One of the best movies I worked on didn't do well at the box office, The Crucible, which is a pure tragedy, but it's a tragedy with heroism. There are movie universals because it's an interactive art form – that's the fascinating thing about it – it doesn't exist by itself. It exists because how the audience feels about it and how the audience reacts to it. Those are the kinds of things you look for."
Finding which film will likely succeed also comes from pure experience, the kind of which he likened to a department store buyer. "Over years, you get practical experience. You learn to know what's difficult to sell. You learn to know what genres are harder. That just comes from experience. It's like the buyer at Macy's knows what shoes are going to sell."
No stranger to press, Rothman took a jab at the media, saying journalists repeat perceived wisdom, noting that the popular line is that studio execs are only interested in making a buck, but said that cliché is just that.
"That's not my experience at all. I do love movies. There are really terrific [execs], and I know them – Amy Pascal, Emma Watts – any number of people – they love movies. They love talent. They're dedicated. I will say this about the press – you think it's so fucking easy! Try it! I'm sure you could have done better for 18 years. I'm just doing the best that I can. I can tell you 100% what movies are hits and what are failures on the Monday after they open - 100%. And so can the press! In advance, it's a little harder. I batted 750 to 800, about as high as you can get. I think there is a clichéd understanding of it. I'm sure there are craven politicians and crooked lawyers, but are all politicians craven? Are all lawyers crooked? I don't think so. Are all studio executives philistines? Not in my experience. Many of them are really hard working. They really back talent all the time and they have to stand up for it."