Skylar Astin On Pitch Perfect And The Enduring Power of Ace Of Base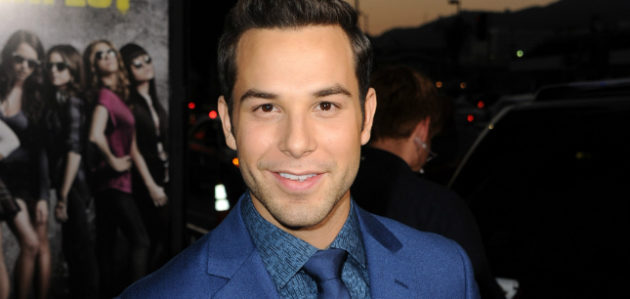 After humming along with this weekend's a capella comedy Pitch Perfect, you're going to want to know more about Skylar Astin, the 25-year-old Broadway alum who made his film debut in Hamlet 2, appeared in Ang Lee's Taking Woodstock, and sings his way into Anna Kendrick's heart this weekend as Jesse, Beca's adorably movie-obsessed aca-love interest and member of the Bellas' rival team, The Treble Makers. Movieline put ten questions (more or less) to Astin for a chat about Pitch Perfect, the summer camp vibe on set, his upcoming comedy projects, and — perhaps most importantly — why the '90s Swedish pop outfit Ace of Base deserves props.

Musicals are popular in the age of Glee, and Pitch Perfect also pays homage to the spirit of John Hughes movies and the romantic comedies of the '80s and '90s, but why do you think it resonates so much?
I think in so many ways it follows a formula that works in terms of big ensemble comedies, but there are elements of it that have never been done before. For one, a capella has never completely dominated a movie. There have been elements of it — I know John Michael Higgins had a moment in The Break-Up that was hilarious — but I think that there's something unique about it that doesn't go too far in one direction, and it's just fun. You just enjoy it. There's something that seems very organic about the comedy and the style.
You started out very successfully on Broadway, alongside Jonathan Groff and Lea Michele in Spring Awakening. Were you looking for a project like Pitch Perfect that specifically involved music?
It seemed like a healthy transition for me but it was more of a coincidence. I wasn't only searching for these movies but it did seem to fall into place beautifully. I responded because it's something that's close to home but I wasn't actively searching — but I'm not going to complain about it either.
Your first film, which was also a musical, was Hamlet 2 — which featured you singing a song with the best song title.
Which one? "Raped in the Face?" [Laughs] That is the most ridiculous song ever.
It was quite the auspicious debut, Hamlet 2, and now you have a few more comedies lined up after Pitch Perfect. What types of projects do you find yourself naturally drawn to?
I'm at a place right now where I'm not opposed to anything. I worked on dramas before, I love sinking my teeth into something dramatic or a period piece, but there's something so fun about doing a comedy. When you go to set and your only job is to make people laugh, there's an unbelievable energy on set. Nobody's tiptoeing or walking delicately around the actors. I really love doing it, and putting the puzzle together with the sole purpose of making people have fun and enjoy themselves.
On the set of Pitch Perfect you had all of these great singers and performers constantly around you. Did the cast spontaneously erupt in song between takes or anything like that?
We had a strict no-singing rule. No, I'm kidding. It was exactly that — I wish I could tell you something even crazier but it was like an all-star theater camp, where you had people you'd recognized from TV and film singing theater songs or pop songs on the radio. We were constantly harmonizing with each other, which got to a weird place after a couple of weeks. But when you're in this kind of ensemble it really feels like you're putting on a play. So there is that energy of all of us hanging out together and seeing movies together and singing, and God forbid someone pulls out a guitar — it's just gonna get crazy.
I do feel like the film is a bit unfair to one particular song. That would be Ace of Base's "The Sign," which becomes a running gag…
Oh my god, 1994! I have the album.
Were there any songs that, by the end of the shoot, you were all completely sick of hearing, that you wanted to call a moratorium on?
The only song that could be in that category for the sake of pure repetition would probably be the medley that the Bellas do throughout the whole first half of the movie. They keep the same kind of routine just like they do in the movie and during rehearsals there were slight changes in each, but playback-wise it was the same thing. That was definitely the most-played song. But my mom used to work out to those songs in my basement when I was growing up; she used to blast "The Rhythm Is Going To Get You," "Turn The Beat Around," "The Sign" — those are songs that have been burned into my memory forever, so I don't think I could a see them in a negative light.
Good! Because "The Sign" demands and deserves a popular revival.
I think Anna Camp and Brittany Snow are just the people to do it.
Now, Skylar Astin is not your full birth name – what's the story there?
Skylar is my first name and Astin is my middle name, and my real last name is Lipstein. When I was 15 I think my first agent just kind of did it for me. I'm not ashamed, I'm not embarrassed, but she said it was just less specific to one thing and she kind of chopped it off. But forever to my friends I will be Skylar Lipstein.
Looking to the future, you've got 21 and Over from the writer of The Hangover, and you also have a comedy called Cavemen. Meanwhile, your Pitch Perfect character Jesse is kind of the perfect college boy-romantic love interest. Where do you see yourself heading in, say, five years' time?
He's definitely sweet as sugar. [Laughs] In five years I just want to be working on things that excite me. I'm open to everything. It could be a 19th century period piece or another awesome comedy with the same crew that did 21 and Over. Or it could be Pitch Perfect 4! Who knows?

Follow Jen Yamato on Twitter.
Follow Movieline on Twitter.