Look Ma, No Masks! 'Big Ang' And Sherée Whitfield Make Us Afraid, Very Afraid In Scary Movie 5 Photo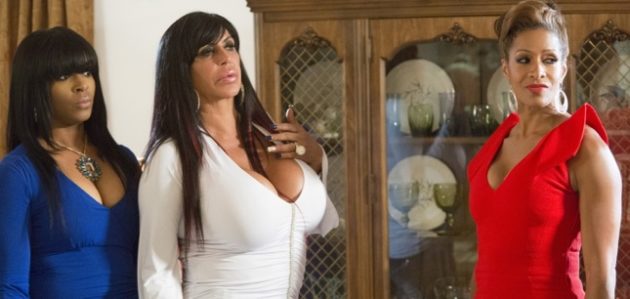 Dimension Films must be saving a butt load on its make-up budget for Scary Movie 5.  For the second time in a week, the production company has sent out a photo from the movie that features tabloid stars who don't need no stinkin' prosthetics or CGI effects to deliver goose bumps. The above shot, taken on the set of the comedy horror picture,  shows  Big Ang Raiola from Mob Housewives, and Sherée Whitfield, from The Real Housewives of Atlanta, looking like Trouble. Scary Movie 5 doesn't hit theaters until April 19, 2013, so I expect to see additional photos of tabloid regulars with cameos in the film surfacing in the interim. On Sept. 20, Movieline ran a still from the picture that depicted Charlie Sheen and Lindsay Lohan in bed after a hot night in the sack (or maybe TMZ).   As I noted in that post, it seems like it will only be a matter of time before Kim Kardashian gets a close-up.
In the email that accompanied the photo of Raiola and Whitfield, a Dimension representative wrote that the two women, who are known for their combative ways on camera, "go to blows in an unforgettable fight scene."  No doubt, but  I feel the need to note that with the kind of pneumatic decolletage Ang is sporting in the shot,  I don't think either one of those ladies would be able to get close enough to the other to deliver a deciding blow.  That said, I do think they have a future in the horror movies.  Just looking at these ladies inexplicably makes me think of the word, "succubus."
Follow Frank DiGiacomo on Twitter.
Follow Movieline on Twitter.