FANTASTIC FEST: Go Back In Time (Via The Internet) And Watch Looper's Rian Johnson Sing Weird Al's 'Yoda'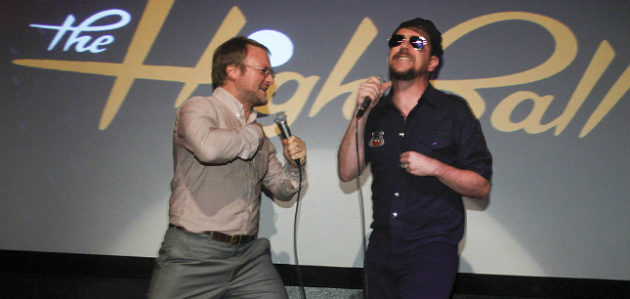 The filmmaker-critic relationship has always been complex — as demonstrated last weekend with hearty debate and even more heartfelt punches in the epic Joe Swanberg-Devin Faraci throwdown, henceforth known as the Mumble in the Jungle — but Sunday night, Looper director Rian Johnson and journalist Aaron Hillis united in sweet synergy to drop a rousing rendition of Weird Al's Kinks-meets-Star Wars classic "Yoda." I wish I had a futuristic time machine to take us all back to relive the moment with our younger selves, but this YouTube video capturing the entire number should suffice.


There's a long history of karaoke at film festivals, but rarely does festival karaoke reach the heights of the legendary magical musical moments at Fantastic Fest. This year celebrity karaoke began with Mexican recording artist and actress Laura Caro (who won Fantastic Fest's award for Best Actress for Here Comes the Devil), who blew the roof off the Alamo Drafthouse's Highball singing her signature cover of "I Will Always Love You" — the song that got her on Mexico's American Idol-like La Academia.
Sunday night the entire visiting Looper crew got in on the action as Noah Segan (AKA Looper's Kid Blue) dueted with film journalista Karina Longworth and Tracie Thoms, who sang on freaking Broadway, crooned The Fugees' "Killing Me Softly."
And of course, yours truly got up there one or two times to sing a little something. When in Austin... Reward Johnson's tremendous karaoke effort by checking out Looper, in theaters this Friday.
[Video via Todd Gilchrist; Photo credit Jack Plunkett]

Read more from Fantastic Fest!
Follow Jen Yamato on Twitter.
Follow Movieline on Twitter.