End Of Watch And House at the End of the Street Top The Box Office In Another Anemic Weekend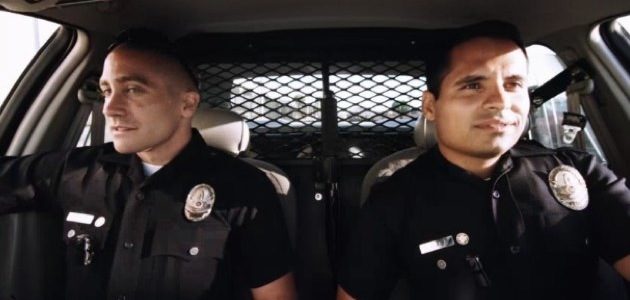 Three new titles essentially scored the number one spot, but they topped a very anemic box office that did not have any titles score anything above $13 million. The top 10 added up to almost $73.5 million, a bit of an improvement over last week's $65.36 million, but still slow. End of Watch grossed $13 million, on par for director David Ayer's previous effort. House at the End of the Street also grossed $13 million, but in more theaters than Watch. And Clint Eastwood's latest Trouble with the Curve bowed with just over $12.7 million.

1. End of Watch
Gross: $13 million
Screens: 2,730 (PSA: $4,762)
Week: 1
The cop drama by David Ayer topped an otherwise unimpressive overall box office over the weekend, with a slow $4,762 average. The feature grossed a comparable amount to Ayer's previous effort, Street Kings, which bowed in 2,467 theaters back in '08, grossing just under $12.5 million.
2. House at the End of the Street
Gross: $13 million
Screens: 3,083 (PSA: $4,217)
Week 1
The feature essentially tied with End of Watch as the weekend's number one film, though its per screen average was slightly lower due to its larger screen number. Though atop the box office, it was nevertheless a rather anemic triumph.
3. Trouble with the Curve
Gross: $12,720,000
Screens: 3,212 (PSA: $3,960)
Week: 1
Clint Eastwood's previous efforts, Gran Torino and Million Dollar Baby were limited release roll outs. His last wide release debut, Blood Work (2002) opened with just over $7.31 million in 2,525 theaters (not adjusted for inflation), so this latest turn appears to be a slight improvement. Still, it may be tight for this one to score the $100 million-plus lifetime theatrical gross of Million Dollar Baby or the $148 million of Gran Torino.
4. Finding Nemo (3-D, Re-release)
Gross: $9,446,000 (Cume: $29,979,000)
Screens: 2,904 (PSA: $3,253)
Week: 2 (Change: - 43%)
The Disney re-release remained on the same number of screens as its debut. In two weeks its cume as almost reached the weekend take of last year's re-release of The Lion King 3-D, which grossed $30.2 million in its debut.
5. Resident Evil: Retribution (3-D)
Gross: $6.7 million (Cume: $33,468,000)
Screens: 3,016 (PSA: $2,221)
Week: 2 (Change - 68%)
Last week's number one film crashed in week 2, adding just four more theaters. The title dropped a steep 68% in its second run. It may be a tall order for this Resident Evil to reach the lifetime gross of its 2010 predecessor Resident Evil: Afterlife.
6. Dredd (3-D)
Gross: $6.3 million
Screens: 2,506 (PSA: $2,514)
Week: 1
Ouch, Lionsgate no doubt dreaded the grosses of Dredd this weekend. The feature pretty much tanked in its bow.
7. The Master
Gross: $5 million (Cume: $6,055,883)
Screens: 788 (PSA: $6,345)
Week: 2 (Change: 579%)
Last week's record-breaking indie success boasted a PSA of $145,949 from five theaters. The Weinstein Company moved the title into 783 more theaters in its second round and the result was a solid showing and a spot in the top 10. As it continues to roll out, it should match or surpass Anderson's previous effort There Will Be Blood, which grossed over $40 million during its theatrical lifetime in '07.
8. The Possession
Gross: $2,630,000 (Cume: $45,279,627)
Screens: 2,598 (PSA: $1,012)
Week: 4 (Change: - 54%)
Last week's number 3 film took a spill in its fourth frame, declining 54% from last week's showing in 262 less theaters. This is likely the pic's last appearance in the top 10.
9. Lawless
Gross: $2,321,000 (Cume: $34,511,919)
Screens: 2,614 (PSA: $888)
Week: 4 (Change: - 47%)
Last week Lawless ranked fourth in the overall box office and this is likely its final showing in the top 10. The title shed 449 theaters in its fourth weekend.
10. ParaNorman (3-D, Animation)
Gross: $2,296,987 (Cume: $52,566,425)
Screens: 1,617 (PSA: $1,421)
Week: 6 (Change: - 26%)
The animated feature lost 709 theaters compared to the previous week, but its overall gross was only down 26%.
----
23. The Perks Of Being A Wallflower
Gross: $244,000
Screens: $244,000 (PSA: $61,000)
Week: 1
The feature easily scored the weekend's highest screen average with a stellar $244K gross from just four theaters. It will be interesting to see how the Toronto '12 title fares in expansion.
[Sources: Box Office Mojo, Hollywood.com]