REVIEW: Adams Steals Trouble With The Curve From Eastwood − But Baseball Drama Chokes In Final Inning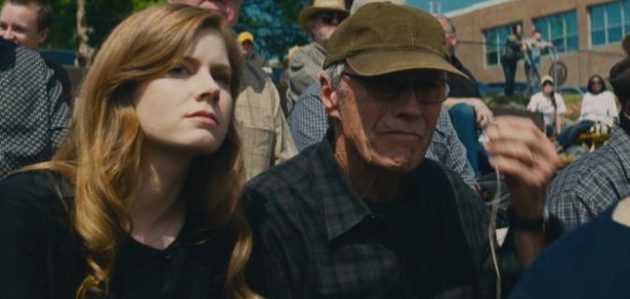 Clint Eastwood is not the type of movie star to disappear into a role, especially not at this point in his career. He's more icon than actor, and a grumpy, bristly icon at that. Tonewise, there's not actually that much separating the improvised shtick Eastwood offered to the Republican National Convention in August and the scripted routine (by writer Randy Brown) he goes through at the start of Trouble With The Curve. On the small screen he addressed an empty chair. On the big one he talks to his penis, which is not cooperating with him in his morning micturition. In both cases, he's gruffly displeased.
Eastwood's screen persona may have calcified over the years, but it's still enjoyably familiar to take in, and Trouble With The Curve, the directorial debut of Eastwood's go-to producer Robert Lorenz, is constructed around his immovable, surly-with-a-soft-center performance like a house built around a tree that's been growing in the same spot for years. Trouble With The Curve is an ode to the old ways of doing things, both in terms of acting and baseball.
Clint Eastwood plays Gus, a scout for the Braves and one of the last holdouts against the stats-based system represented by his obnoxious, ambitious coworker Phillip (Matthew Lillard). In terms of perspective, Trouble With The Curve is exactly the opposite of Moneyball. It lauds the types of things that Bennett Miller's film dismissed as out-of-date sentimentality: scrutinizing a player's hands when he swings, listening to the crack of his bat, and looking into his face to know if he's got heart.  Where Moneyball's hero was the bright kid with the computer, Trouble With The Curve's is the old man with the ingrained instincts;  the family with baseball in its blood.
The film basks in the analog side of putting together a team, in traveling on the road to high school games and listening to a hit. Gus is getting on in years and is in denial about the fact that his eyesight is going, but by the film's judgement he's still the best there is -- even if he has to depend on his ears. Here, character is destiny, and so we know that Bo Gentry (Joe Massingill), the North Carolina up-and-comer Gus and the other scouts are all eager to evaluate as a potential first draft pick, is lacking before we ever see him play, because he's an arrogant ass.
Trouble With The Curve's old-fashioned qualities and romanticism veer into hokiness, but , but the film gets a major charge from Amy Adams, who plays Gus' daughter Mickey.  In a spirited, nuanced performance, Adams subtly undermines the film's tacit approval of its protagonist's ways. A dedicated lawyer on track for partnership at her Atlanta firm, Mickey's learned to hide in her work and to keep people at an emotional distance from her dad, who shipped her away to live with family when she was six and her mother passed away.
Adams doesn't play Mickey as brittle or snippy, which has become lazy actor shorthand for the workaholic females in movies. She's guarded but warm, and keeps reaching out to her father via calls and dinners, despite his apparent indifference and unintentionally harsh words. We know that Gus loves his daughter, he just has trouble expressing it. When Mickey isn't around, he has no trouble praising her in the presence of others.  But over the course of the film,  Mickey's refusal to give up on her relationship with her father, despite being repeatedly rebuffed by him, starts looking more like strength than her remaining parent's growling dedication to doing things the right way.
The same qualities show up in Mickey's tentative romance with new scout Johnny (Justin Timberlake, always welcome), a former pitcher scouted by Gus years ago who blew out his arm and now aims for an announcer job. He charms his way past her defenses, and she in turn acknowledges her tendency to keep people at a distance. Mickey demonstrates that being able to bend, to acknowledge your faults and work on them requires more courage than always standing your ground. Adams quietly steals the movie out from under her co-star, and she does it while steering clear of the stereotypical ruts that could have mired her performance in mediocrity.
Adams and her unexpected approach to her scenes with Eastwood bring Trouble With The Curve to life and give it more animation than its formula would suggest. Despite this, the film loses a lot of that energy in a final act that makes Lillard's character needlessly and foolishly villainous, and then wraps every element up in an overly neat happy ending. Even baseball is entitled to a few fairytale moments, but it's a wrap-up than oversimplifies the more complex portrait of a father and daughter and their lifelong struggle to connect.
Follow Alison Willmore on Twitter.
Follow Movieline on Twitter.