End Of Watch Star Michael Peña Sees Racial Barriers Coming Down In Hollywood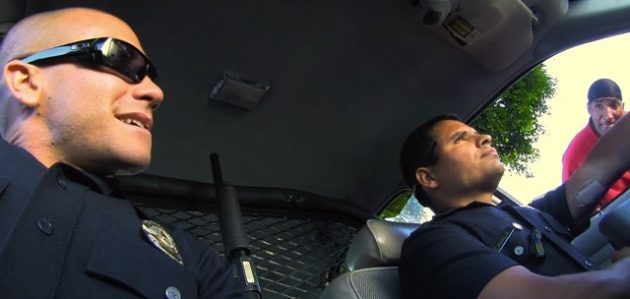 Actor Michael Peña is set for what is likely his biggest starring role to date in director David Ayer's End of Watch. In the pic opening this weekend, he plays opposite Jake Gyllenhaal as a pair of good-guy but rough-and-tumble L.A. cops who face the complicated mean streets of the city's gang-ridden South Central neighborhood. At the Toronto International Film Festival where the film debuted earlier this month, Peña recalled his life growing up in a similarly rough are of Chicago, crediting sports and a former girlfriend who landed him a job at a bank for keeping the lure of gangs at bay. And, he hinted that his ego may have also played into his decision for a different life, which quickly took him to Hollywood.

"I never wanted to be in a gang," said Peña. "I didn't want to follow anybody's orders. I thought of myself as an individual ever since I was little." He said that growing up in what he described as "the ghetto" was different than what his co-star Jake Gyllenhaal or others were used to, though taking on this role brought back memories of certain defense mechanisms.
[Related: Jake Gyllenhaal's Life-Changing End Of Watch Prep: 'Someone Was Murdered In Front Of Me']
"I grew up in the ghetto, and the thing is when there were problems, I knew when to get away. But police go to the problems," he said. "I didn't do that growing up. Seeing it through Jake's eyes, it re-ignited what I always knew, but I guess I had buried it. I've been living in Hollywood for the past 15 years. And reality just smacks you in the face - that feeling of potential danger everywhere." Peña worked at a bank after his girlfriend at the time helped him get the job.
He later went to an open casting call for Peter Bogdanovich's To Sir, with Love II, which gave him his first acting gig. He then took a few months of wages he saved and headed to Hollywood, getting a number of television and movie roles. But End of Watch will likely propel the actor to the next level.
In the film that begins its theatrical run this Friday, Gyllenhaal and Peña play LAPD officers Brian Taylor and Mike Zavala. The action unfolds on screen through the P.O.V. of hand-held cameras implanted on police officers with more footage "shown" by gang members, surveillance cameras, dish cams and citizen-caught images in the line of fire. While there are moments peppered throughout the feature showing moments of levity between the their characters that prompted outbursts of laughter during the film's premiere in Toronto, the scenes quickly turn to present a mosaic of dark violent streets, human trafficking, gang confrontation and a barrage of shoot-outs.
Key to the story was a sense of brotherhood between Gyllenhaal and Peña's characters, something that took some time to develop, according to Peña. The two actors had not met before coming aboard the project and Peña said there's a difference between portraying two people who are like brothers as opposed to simply work partners.
"It took three months to click," said Peña. "There's a lot of pressure to play like brothers. We had to spend a lot of time together to opening up to each other as well as tactical training, rehearsing. Three months later we had a good rapport and we put that in the movie."
Peña said that he believes Latino characters are becoming much more a part of the fabric of Hollywood, giving credit to filmmakers and actors Diego Luna and Gael Garcia Bernal and their 2001 hit Y Tu Mamá También in large part for narrowing the racial gulf. (Incidentally, Peña is set to play agricultural workers activist Cesar Chavez in a feature being directed by Luna, which also stars Rosario Dawsom and America Ferrera who also appears in End of Watch).
"The script for [End of Watch] was written for actors like Jake Gyllenhaal and me - a Latin dude. It had to be a Latin dude, there is so much Latin [material] in it. Ten years ago, I don't know if that would have been the case. I don't know if it would have been so easy to do."