High And Low: Arthouse Freak-Out Beyond The Black Rainbow + Comedy Classic Airplane! Hit Home Video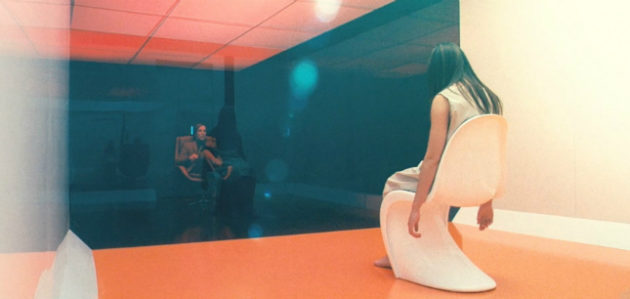 Cinema connoisseurs of two kinds are in luck this week: Panos Cosmatos's acid-trip of an arthouse thriller Beyond The Black Rainbow hits shelves as Movieline's highbrow pick of the week, while the comedy classic Airplane! gets the Blu-ray treatment. Surely you can't resist?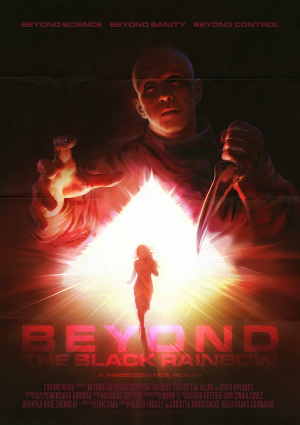 HIGH: Beyond the Black Rainbow (Magnolia Home Entertainment; $26.98 DVD, $29.98 Blu-Ray)
Who's Responsible: Written and directed by Panos Cosmatos; starring Michael Rogers, Eva Allan, Scott Hylands.
What It's All About: A young woman (Allan) in 1983 undergoes "therapy" at the mysterious Arboria Institute, although any outside observer would be forgiven for thinking that she's being mentally tortured by the twitchy and nefarious Dr. Barry Nyle (Rogers). Can she escape? Will her obsessive tormentor allow her to elude his clutches?
Why It's Schmancy: The word "trippy" just scratches the surface of the gorgeous psychedelic freak-out that's been crafted here by first-time filmmaker Cosmatos. (His father, director George Pan Cosmatos, was the man behind more decidedly mainstream fare like Rambo: First Blood, Part Two and Tombstone.) Beyond the Black Rainbow pays homage to those '70s thrillers in which dastardly things were happening behind the seemingly sterile walls of coolly impenetrable high-tech companies (Colossus: The Forbin Project, Parts: The Clonus Horror, Coma, et. al.) with chilly aplomb; Cosmatos gets the period exactly right, from the hypnotically droning and heavily synth-y soundtrack by Jeremy Schmidt to Dr. Nyle's black-turtleneck-under-tweed-blazer ensemble. The pace is slow, but the wonderfully weird payoffs are worth it.
Why You Should Buy It: While a director commentary from Cosmatos would no doubt be illuminating, the auteur apparently prefers to let the work speak for itself; the only extras are the theatrical trailer and some deleted special effects footage where you get to watch a head melt. (Not a bad metaphor for how many audiences will respond to the film.)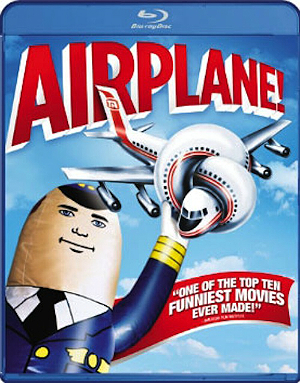 LOW: Airplane! (Paramount Home Entertainment; $22.98 Blu-Ray)
Who's Responsible: Written and directed by David Zucker, Jim Abrahams and Jerry Zucker; starring Robert Hays, Julie Hagerty, Leslie Nielsen, Robert Stack, Lloyd Bridges, Peter Graves.
What It's All About: This frenetic and outrageous satire of disaster movies in general (and 1957's Zero Hour in particular) features shell-shocked war veteran Ted Striker (Hays) pursuing his stewardess girlfriend Elaine (Hagerty) on a flight from Chicago to Los Angeles; when food poisoning strikes the crew, Ted is the only hope of safely landing the plane, with a little help from a doctor (Nielsen), a jittery airport manager (Bridges) and Ted's former commanding officer (Stack).
Why It's Fun: Many have tried but few have succeeded in copying the machine-gun-fire barrage of visual gags, puns, reference jokes and flat-out anarchic weirdness that have made this spoof one of the great American comedies of all time. It may be silly and sophomoric, but Airplane! is a miracle of pacing, with more laughs per minute than maybe any feature film ever made. Generations of new audiences unfamiliar with the 1970s disaster epics being parodied here still embrace this movie for its timelessly wacky pleasures. If nothing else, this movie may have succeeded at removing the word "surely" from serious conversation.
Why You Should Buy It (Again): The extras — a feature-length commentary, pop-up trivia, and a "Long Haul" version of the film that allows viewers to click on icons to look at deleted scenes and interviews — will be familiar to anyone who purchased the previous "Don't Call Me Shirley" edition. But Airplane! has never looked or sounded as sharp as it does on this Blu-Ray release (previously a Best Buy exclusive, now on sale everywhere).
Previously: High And Low: Slapstick Savant Buster Keaton And (Surprise!) Horror Huckster William Castle Bring The Funny
Follow Alonso Duralde on Twitter.
Follow Movieline on Twitter.