High And Low: Slapstick Savant Buster Keaton And (Surprise!) Horror Huckster William Castle Bring The Funny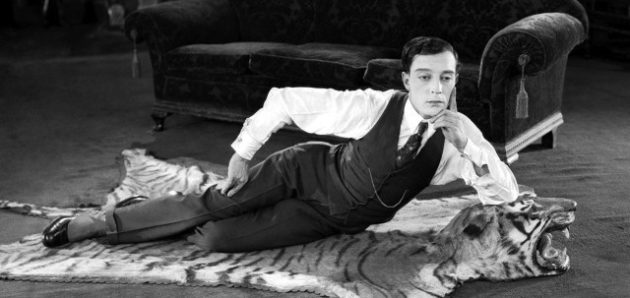 Given the Labor Day weekend, most of this week's high-profile home-video releases are TV box sets timed to promote the new seasons of such returning favorites as The Good Wife and Grey's Anatomy. That doesn't mean film lovers are out of luck: there are new editions of beloved comedies from two very different directors who both managed to be brand names in their chosen fields.
HIGH: The Navigator: Ultimate Edition (Kino Classics; $29.95 DVD/$34.95 Blu-Ray)
Who's Responsible: Directed by Buster Keaton and Donald Crisp from a story by Clyde Bruckman, Joseph Mitchell and Jean Havez; starring Keaton and Kathryn McGuire.
What It's All About: Keaton stars as the rich and thoroughly useless Rollo Treadway, who has his chauffeur drive him across the street so he can propose to the equally wealthy and spoiled Betsy O'Brien (McGuire). She turns him down, but through a series of complicated circumstances, the two of them find themselves alone on a ship in the middle of the Pacific. Things start out disastrously — she boils a giant pot of water to cook one egg — but they figure out a way to survive, just in time to face attack by angry islanders.
Why It's Schmancy: Academics, list-makers and cinematic know-it-alls of every stripe champion Keaton's The General as one of the greatest silent comedies ever made, but I've always preferred this 1924 slapstick-heavy nautical epic. From the early scenes of the two young dilettantes trying to figure out who else is on the boat to Keaton's underwater antics in a pre-SCUBA diving suit — which he later turns into a raft — The Navigator shows the legendary director in top form and makes the perfect comedy to show to someone who's never seen a silent movie before.
Why You Should Buy It (Again): The "Ultimate Edition" marks the Blu-Ray debut of this classic, although both the Blu-Ray and the DVD releases include the HD master from the original 35mm negative, tinted to the filmmaker's specifications. Both editions also include an orchestral score by Robert Israel, a featurette on the making of the film and Keaton's ongoing fascination with boats as a source of comedy. Feature-length audio commentary by silent film historians Robert Arkus and Yair Solan, a photo gallery, and the audio of "Asleep in the Deep," a 1913 hit song referenced in the film, gives this package some real depth.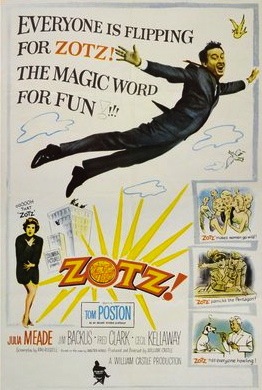 LOW: Zotz! (Sony Pictures Home Entertainment; $20.95 DVD)
Who's Responsible: Directed by William Castle, written by Ray Russell, based on the novel by Walter Karig; starring Tom Poston, Jim Backus, Margaret Dumont.
What It's All About: College professor Jonathan Jones (Poston) finds an ancient amulet and discovers that he can use it to slow down time, cause great pain and even (when it's pointed at someone and the title of the film is uttered) kill people. Jones tries to pass the talisman along to the Department of Defense, but the government agents think he's nuts. The Soviets, however, want to get their hands on it, and wackiness ensues.
Why It's Fun: Zotz! marked something of a departure for Castle, best known for thrillers and horror movies like The Tingler, The House on Haunted Hill, Homicidal and 13 Ghosts. What really made Castle famous was his love of gimmicks, whether it was insuring his audiences against death by fright, wiring theater seats to buzz unsuspecting patrons or unleashing a giant inflatable skeleton to fly through the theater. With Zotz!, he toned things down a bit, merely handing out replica medallions to audience members. Still, it's a silly and entertaining comedy, featuring a rare lead role for legendary TV second banana Poston, best known as the doofus foil to Bob Newhart on his various hit sitcoms.
Why You Should Buy It (Again): Sony is offering the film through its movies-on-demand (i.e., they don't make it until you buy it) label "Choice Collection," which in this case means there aren't any extras. If you're interested in Castle, you should instead spring for the William Castle Film Collection box set, which features Zotz! and several other Castle classics as well as a great documentary on the huckster filmmaker: Spine Tingler! The William Castle Story.
Alonso Duralde has written about film for The Wrap, Salon and MSNBC.com. He also co-hosts the Linoleum Knife podcast and regularly appears on  What The Flick?! (The Young Turks Network).  He is a senior programmer for the Outfest Film Festival in Los Angeles and a pre-screener for the Sundance Film Festival. He also the author of two books: Have Yourself A Movie Little Christmas (Limelight Editions) and 101 Must-See Movies for Gay Men (Advocate Books).
Follow Alonso Duralde on Twitter. 
Follow Movieline on Twitter.