At Vreeland Premiere, Hilfiger, Bedingfield, Gershon Reveal Which Movies They'd Like To Costume Design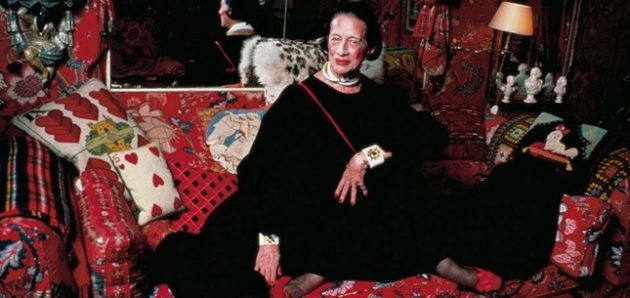 In the midst of Mercedes Benz Fashion Week in Manhattan, the fashion crowd broke from the daily grind of runway presentations on Saturday night to soak up the wisdom of one of their forebears at the New York premiere of Diana Vreeland: The Eye Has to Travel.
Instead of looking forward to fashion's future, the glam guests embarked on an evening of reflection at the Museum of Modern Art as the film — directed by the late fashion diva's granddaughter-in-law Lisa Immordino Vreeland, Bent Jorgen-Perlmutt and Frederic Cheng — examined how Vreeland and her game-changing work at Harper's Bazaar, Vogue and the Metropolitan Museum of Art's Costume Institute informed and transformed the rag trade.
Comprised of rich archival footage and commentary contributed by friends, family and colleagues of the genuine fashion icon, the 86-minute documentary of Vreeland's transformation from "ugly duckling" to, arguably, the most influential fashion arbiter of her time, proved to be a crowd pleaser. Thanks to Vreeland's charisma — and chutzpah — and some excellent editing, The Eye Has to Travel is both inspiring and laugh-out-loud funny.
Fashion editor and stylist Mary Alice Stephenson perhaps put it best, exclaiming of Vreeland, "She's a badass." Model Karlie Kloss said of the film, "I feel like I just got a serious history lesson."
After the packed screening, guests swanned over to the W Magazine and Swarovski-sponsored post-premiere party at Monkey Bar where a waiter carrying a tray of canapes bumped into model Angela Lindvall with enough inertia to cause her to spill the martini she was sipping. (Her reaction? Gracious.) At the bar, 20-year-old actress Sami Gayle (Detachment) ordered a Sprite and asked the bartender:  "Can I get a straw?" Charming.
Eventually, most of the crowd settled into booths: actor Alan Cumming huddled with a group that included actress Christine Baranski; fashion designer Erin Fetherston cozied up with her boyfriend, Cobra Starship frontman Gabe Saporta; and actress Gina Gershon table-hopped before sitting down with W editor Stefano Tonchi. With such a dense collection of fashionistas in one room, Movieline took the opportunity to ask some of the most stylish guests a single question: "If you could costume design any movie or adaptation of a movie, what would it be and why?" Here's what they said:
Karlie Kloss, model: "An Audrey Hepburn movie, for sure. I think that would have been amazing."
Tommy Hilfiger, fashion designer: "The Great Gatsby. I love the era. I love the clothes. And wish I had been there."
Brooke Shields, actress: "At this point, I would to have liked to have done this movie! [Laughs] If I had the talent. If I had their aesthetic and their ability. I would love that."
Anja Rubik, model: "Fifty Shades of Gray will be quite cool with all the sex items. So, I would pick that one. I think that that's really fun."
Christine Baranski, actress: "I'd probably like to do something like Portrait of a Lady. Something Edwardian. Downton Abby just can't be beat. It can't be beat."
Alan Cumming, actor: "I'm trying to think of something where I didn't like the clothes so I could re-do it. I've got a movie coming out at the end of the year called Any Day Now. That one I would like to re-costume. [Laughs] No, it's my wig I hated in that."
Sami Gayle, actress: "Mean Girls. The people in that film had a great style to start with, but there are a lot of different personalities and you could work that into different aspects [of the film]."
 Robert Verdi, stylist: "The remake of Valley of the Dolls. It was a highly stylized movie and there was something laughable about it, because it was so extreme at the time. I understand the intersection of fashion and humor, so that's the one I'd like to do. I'm the funny fashionistas."
 Natasha Bedingfield, singer-songwriter: "It would probably be about Native Americans, because I love the story, firstly, but I also love beading and native jewelry."
Franca Sozzani, editor-in-chief, Vogue Italia: "Maybe the last one that Baz Luhrmann is doing, The Great Gatsby. It was a very elegant moment and the 1920s were the most elegant moment."
 Erin Fetherston, fashion designer: "You know, I heard once, there were rumors of them remaking Belle de Jour. And that could be something that would be really amazing. I love that Parisian chic [aesthetic]. Late fifties, early sixties. It could be interesting to re-imagine that in a modern context."
Angela Lindvall, model: "Alice in Wonderland. Just because I love fantasy."
Maria Cornejo, fashion designer: "My favorite movie of all time is Blade Runner. I would love to do Blade Runner."
 Gina Gershon, actress: "Probably The Wizard of Oz. It's one of my favorite movies and there are so many fun people and creatures to design [for], you know?"
Stefano Tonchi, editor-in-chief, W Magazine: "One of my favorite movies is Blade Runner, so I would like to do a sequel or something like that. Bring it into the next hundred years. It's my favorite movie of all time. I think it's really undervalued. Daryl Hannah in her see-through plastic raincoat is absolutely fantastic."
Nell Alk is an arts and entertainment writer and reporter based in New York City. Her work has been featured in The Wall Street Journal, Manhattan Magazine, Z!NK Magazine and on InterviewMagazine.com, PaperMag.com and RollingStone.com, among others. Learn more about her here.
Follow Nell Alk on Twitter.
Follow Movieline on Twitter.