Diana Vreeland: The Eye Has To Travel Sashays Fashion, Parties & Mick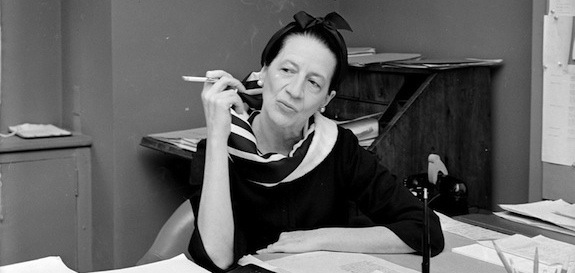 Before there was Anna Wintour, The Devil Wears Prada - and even ahead of the days when they put the 'super' before the 'model' - Diana Vreeland reigned as top fashion maven in the U.S. Naturally, the woman who "discovered" Lauren Bacall, launched Twiggy, advised Jackie O., partied with Mick Jagger and once said, ""The bikini is the most important thing since the atom bomb," was ripe for a documentary. Diana Vreeland: The Eye Has To Travel heads to theaters later next month, but distributor Samuel Goldwyn gives a snapshot of Vreeland in the feature's new trailer below.

"You can see and feel the approaching revolution in clothes," Diana Vreeland says in the trailer. Footage follows with praise and flashy images from high-style celebs and designers she influenced. The trailer also sneaks great scenes of her taking in New York night-life with a great shot of her taking a puff from a ciggy while chatting up Andy Warhol. "I wanted to get where the action was," she said with a devilish smile. Journalist Bob Colacello recalls a great Vreeland quote: "You're not supposed to give people what they want, you're supposed to give them what they don't know that they want yet." The trailer also includes snappy tidbits from fashion designers Calvin Klein, Anna Sui, Diane von Furstenberg and a great little outburst from Manolo Blahnik.
Synopsis: Diana Vreeland: The Eye Has to Travel is an intimate portrait and a vibrant celebration of one of the most influential women of the 20th century, an enduring icon whose influence changed the face of fashion, beauty, art, publishing and culture forever.  During her fifty year reign as the "Empress of Fashion," she launched Twiggy, advised Jackie O and coined some of fashion's most eloquent proverbs such as "the bikini is the biggest thing since the atom bomb." She was the fashion editor of Harper's Bazaar where she worked for 25 years before becoming editor in chief of Vogue followed by a remarkable stint at the Met's Costume Institute where she helped popularize its historical collections. The film, which premiered at the Venice Film Festival, is directed by Lisa Immordino Vreeland.
Watch the trailer on YouTube.