Kristen Stewart Didn't Want To Play On The Road's Marylou As Just 'A Wild Sexy Girl'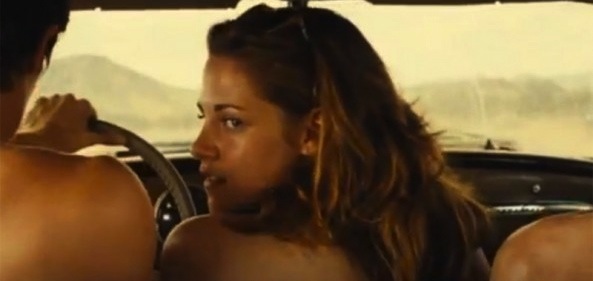 Before Twilight and even before Kristen Stewart was first approached to be in On The Road by Brazilian-born director Walter Salles, the young actress read the Jack Kerouac novel for school. She told Movieline that she picked up the book because it was an assignment given, but her experience with the now American classic evolved. "I found the book fun," she said. But after reading and studying it more, it became much more compelling and taught her personal life lessons about growing up, making choices and dealing with inhibitions. She also emphasized that while she played the comparatively wild Marylou, she does not judge her uninhibited character.

[PHOTOS: Kristen Stewart, Garrett Hedlund, and Kirsten Dunst Go 'On The Road' in Toronto]
"I learned through the book that you really have a choice about who you surround yourself with. [As a young adult] you realize you can choose who you're surrounding yourself with," Stewart told ML in Toronto where On The Road debuted over the weekend. "Up until that point you're really circumstantially with your family or whatever but at some point you can 'choose' your family.
"I have a great family by the way, but you need to find people who can pull something out from you that might be otherwise unseen. And when I read the book, I thought, 'Gosh I need to find people like that.' I'm definitely not the Marylou type. But as I continued reading it as I got older, the weight of it started to mean something more."
In the film version of the book, Stewart plays Marylou who was first married to, then divorced from, and ultimately a lifelong companion/lover/fellow free spirit to Dean Moriarty. The story centers on Dean (based in real life on Neal Cassady) who meets up with close friend Sal (writer Jack Kerouac's own stand-in) as the two travel across the U.S. as well as into Canada and Mexico. Like Dean, Marylou is anything but monogamous and she dabbles in pleasures that are alien to the wholesome fun of the prevailing culture of the conservative 1950s.
Stewart and the rest of the cast, including Garrett Hedlund (Dean), Sam Riley (Sal) and Kristen Dunst (Camille), met and spoke with relatives of the real-life characters they played in addition to other research before embarking on On The Road. Stewart said that she didn't want to simply approach Marylou as a rebellious young woman with loose morals, but explained that while she gained understanding of her, she remained, to some degree at least, an enigmatic figure.
"To play a part like Marylou, she's very vivid and colorful but also on the periphery," said Stewart. "You don't know her heart and head and the how and why she does what she does. By the time that it came to film, I didn't want to play her simply as this character that is just a wild and sexy girl. With the research we were able to do, applying the whys and getting to know the people behind the characters makes you think about the book differently."
Stewart continued, "It's not easy to live a life like that and that's what makes these people remarkable. I did always wonder how she could take it. How deep is that well? How much can you have taken from you? What I found about her is, that uniquely to her — and not to the time she lived in — was her capacity to see through people's flaws and see past them, which was unbelievable. She was just such a wonderful woman. She was infectious. And, no, I did not judge her."
Kristen Stewart appeared at some moments very pensive and at other moments playful in describing her role and unusually long attachment to On The Road. The period coincided with being catapulted to the height of fame through the Twilight franchise, which morphed into zealous attention from so-called Twi-hards who lived vicariously through her and her equally lauded co-star and real-life boyfriend, Robert Pattinson. And as the world now well knows, that relationship hit the skids in the glare of legions of fans through an onslaught of media spectacle.
Just weeks after the tidal wave of attention, Stewart bravely faced media for On The Road, though handlers were clear before assigning interview time — the subject needed to remain "on topic." Still, Stewart talked about herself personally, saying that the experience she had with On The Road had provided her some life lessons both professionally as an actor and also as an individual.
"If this has taught me anything, it's just that if you stop thinking and just breathe through it, you're such a better actor. You just have to do the work initially and then trust that you've already done that work and not get too analytical. You have to trust that you've already completed that effort," she said.
And beyond the work, Stewart said she now has more confidence to say what she thinks with less fear than in her earlier years.
"It's opened me in a way that's probably more appropriate to my age. I think I'm a bit less inhibited, and not thinking too much before speaking. It's not about being shameful, I'm just a bit more unabashedly myself because of this thing, and it probably started at age 15. I can be around people and say what I think without fear."
Previously: Kristen Stewart Talks 'Hard Love' In Toronto For On The Road
Read more from the Toronto Film Festival.
Follow Brian Brooks on Twitter.
Follow Movieline on Twitter.