Today In Inspired Casting: Al Pacino As Joe Paterno?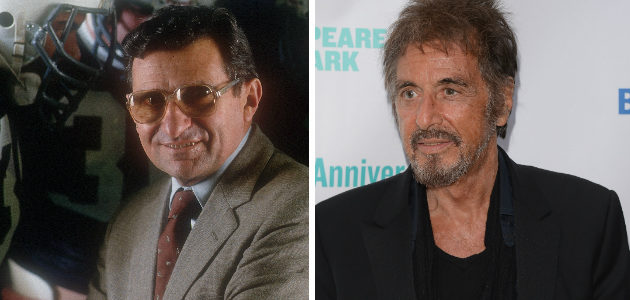 Deadline reports that Al Pacino has been tapped to play famed Penn State fixture Joe Paterno, the legendary football coach who enjoyed the winningest reign in history before the Jerry Sandusky sexual abuse scandal marred his legacy. A little side-by-side photo comparison shows that Pacino bears a resemblance to the late coach, if you squint a bit; after a spotty run in film and TV of late (veering from the TV movie You Don't Know Jack, which earned him an Emmy and Golden Globe, to the Adam Sandler comedy Jack & Jill — let's not even talk about Dunkaccino), JoePa's rise and fall might offer some meaty material for the Oscar-winner.

Though the project is still in development — ICM is shopping it around, according to Deadline — Pacino is attached, and a script will be adapted from Joe Posnanski's New York Times bestselling biography Paterno.
[Deadline]