WATCH: Pitbull Makes His Acting Debut (As Pitbull!) In Shaolin Drug Cartel Actioner Blood Money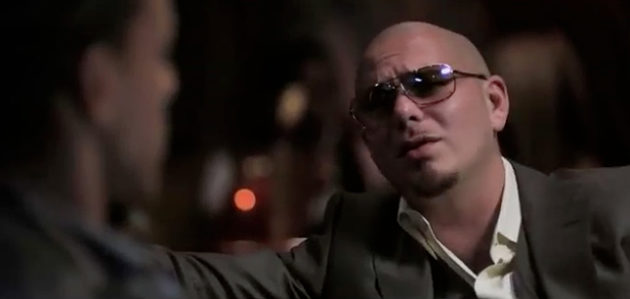 This week the Miami-based rapper/Men In Black 3 ditty composer known as Pitbull makes his acting debut in the martial arts/action film Blood Money playing himself, naturally — a rapper who just happens to drop club bangers before giving sage drug game advice like "Go hard or go home!" to stone-faced visitors after the show. WHY THE HELL NOT. And yes, Blood Money is actually about a Shaolin priest who becomes a hitman after his family is killed, and it stars Zheng Liu, billed as "the next Bruce Lee," not to mention Hong Kong legend Gordon Freaking Liu (The 36th Chamber of Shaolin, 8 Diagram Pole Fighter, Kill Bill). My takeaway from that is: At long last, bald twins Pitbull and Gordon Liu are in the same movie!

Without further ado, watch Pitbull singing his own "Miami Boyz" and advising a wannabe Scarface in Movieline's exclusive clip.
I'd love to have seen Pitbull rap with dancing ladies, dispense advice to criminals, and then also do somersaults over speeding motorcycles and throw knives and roundhouse kick baddies like Zheng Liu does in the rest of this movie. Alas, the Pitbull of Blood Money is all about the music. Perhaps in his next movie he'll join the ranks of MCs-turned-action stars and defeat an army of cartel thugs with his sick party beats or something.
Meanwhile, Blood Money's "next Bruce Lee" should make this an intriguing view for action fans; with the exception of those clearly CG throwing blades that Liu keeps hurling into his enemies, the action relies on practical stunts rather than digital ones. I'm told Liu actually broke a steel bar on his head and the sound you hear was actually captured on location and not foleyed in afterwards.
The elder Liu, a living legend, reportedly suffered a stroke last year and has been relatively absent from the public eye since. He also has a role in RZA's upcoming The Man With The Iron Fists, and from his few scenes in the trailer it looks like he still had it whenever he filmed this movie.
Blood Money is out on DVD/Blu-ray now and is available on VOD.
Follow Jen Yamato on Twitter.
Follow Movieline on Twitter.