Angelina Jolie Responds to Copyright Infringement; Eva Longoria Set for DNC Speech: Biz Break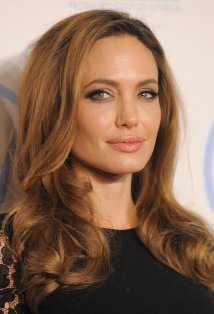 Also in Thursday morning's round-up of new briefs, the Academy is set to honor four at its annual Governor's Awards dinner. Toronto's When I Saw You lands distribution. And new Clint Eastwood film is headed to the Tokyo International Film Festival.

Academy to Honor Jeffrey Katzenberg, Hal Needham, D.A. Pennebaker and George Stevens, Jr.
The Academy of Motion Picture Arts and Sciences will present Honorary Awards to stunt performer Hal Needham, documentary filmmaker D.A. Pennebaker and arts advocate George Stevens, Jr. as well as the "Jean Hersholt Humanitarian Award" to Jeffrey Katzenberg. The awards will be presented at the Academy's annual Governors Awards dinner on Saturday, December 1st.
Toronto's When I Saw You Heads to Theaters
The film by Annemarie Jacir will be Palestine's entry for Best Foreign Language Oscar consideration and will debut at the Toronto International Film Festival September 9th. The story centers on an eccentric 11 year-old boy who runs away from a Palestinian refugee camp in his search for freedom. A journey of the human spirit that knows no borders, set in Jordan 1967.
Around the 'net…
Angelina Denies Copyright Infringement in In The Land of Blood & Honey Lawsuit
Jolie as well as fellow defendants GK Films and distributor FilmDistrict denied taking key elements of a book on the Bosnian War for her 2011 film In The Land of Blood & Honey in a 13-page response filed Tuesday, Deadline reports.
Eva Longoria Says She'll Be Her Own Speaker at DNC
Longoria says comparisons to Clint Eastwood are not relevant as she gets set to take to the stage at the DNC. "People keep comparing us because we are both from the entertainment industry and he had a very different narrative," the former Desperate Housewives actress told CNN's Piers Morgan tonight at the DNC, Deadline reports.
Clint Eastwood's Trouble With the Curve to Close Tokyo International Film Festival
Eastwood stars in the film directed by Robert Lorenze and also starring Amy Adams, John Goodman and Justin Timberlake. The film tells the tale of an aging baseball scout (Eastwood) with failing vision who takes a road trip to check out a hot prospect with his daughter, played by Amy Adams, during which they finally connect with each other. The feature will screen in Tokyo October 28th, THR reports.