The Bay Trailer: Flesh-Eating Water Bug Horror, From The Oscar-Winning Director Of Rain Man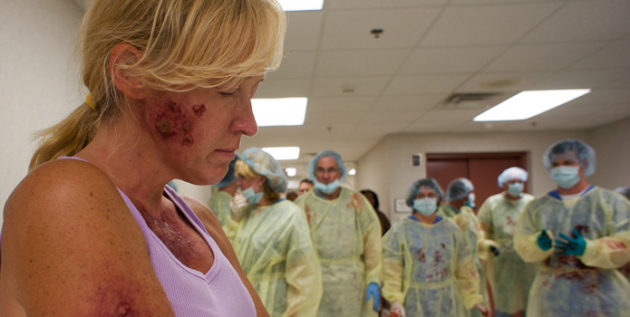 An outbreak of zombie-like symptoms plagues the residents of a waterfront town in The Bay, but I can't get over the fact that Barry Levinson, the Oscar-winning director of Rain Man and the maker of such resume-tipping hits as Diner, Good Morning, Vietnam, Bugsy, and Wag the Dog is doing a found footage creature feature that doesn't seem to offer terribly much new or fresh within the genre. Are things that bad, Barry?

If you'd told me The Bay was simply another gimmicky wannabe horror hit from the makers of Paranormal Activity I wouldn't have blinked twice. Maybe there's some brilliant layered examination of humanity and the environment in how the nice white folks of Chesapeake Bay are being infested with gross waterborne roly poly bugs.
This man made The Natural! Sigh.
I'm sure if interrogated, Levinson would cite some itch to explore new genres and filmmaking styles or step outside his comfort zone or whatever. His last theatrical release was the disappointing What Just Happened, and before that he made the Robin Willians comedy Man of the Year. Even that Gotti biopic is looking like The Godfather compared to this.
But we shall see: The Bay screens at the Toronto Film Festival and opens in theaters on November 2. Add your thoughts below and while we're at it, name your favorite Levinson flick that doesn't involve flesh-eating bugs and shaky home video.
Follow Jen Yamato on Twitter.
Follow Movieline on Twitter.