5 To Watch From Telluride: Marion Cotillard, Argo, Bill Murray, A Royal Affair & Amour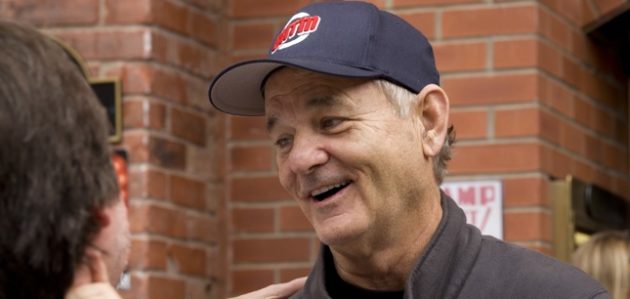 Bill Murray, Photo copyright Pamela Gentile
Ben Affleck's look at a hidden story from the Iranian hostage crisis, Bill Murray as FDR, Marion Cotillard playing a woman whose life is dramatically altered in an instant, as well as a pair of acclaimed foreign language films are just a few of the most buzzed about movies coming out of this year's Telluride Film Festival. Over the course of just four days here in this Colorado mountain town, attendees got a head start peek at some of the best movies of the year. Films and performance that will have moviegoers talking this fall.

Marion Cotillard
Saturday night here in Telluride, French actress Marion Cotillard sat at a small dinner alongside director James Gray. Directors Alexander Payne and Sally Potter were among those wishing her well at the intimate gathering after her on stage tribute. Cotillard is starring in Gray's upcoming movie, Nightingale and Gray was here in Colorado to salute her on stage as she received a festival tribute. While the night included a five minute clip from Nightingale, the Cotillard movie that had festival goers buzzing was Jacques Audiard's Rust and Bone.

Set on a grittier side of the South of France than is typically pictured in the gossip magazines, Audiard's
Rust and Bone
is the story of an animal trainer at the local Marineland who fights back from a dramatic setback. It would be an unfair spoiler to detail the nature of Cotillard's character's devastating journey but it's safe to say that as she comes to grips with her future she also finds love in an unexpected place. 
Cotillard's performance has been hailed since the film's debut at the Cannes Film Festival earlier this year and there's little doubt that the Oscar winner will be high atop year end lists of the best performances of the year. While it's rare for an acting Academy Award to go to a lead in a foreign film, Cotillard already broke that barrier, winning the award for
Ma Vie En Rose
in five years ago.
Rust and Bone
opens in theaters on November 16th.
Bill Murray
While the best acting category will surely have some big names all vying for attention, the Telluride festival also showcased a male actor sure to turn heads. Comic legend Bill Murray plays it pretty serious in Roger Michell's latest, Hyde Park on Hudson. He was a surprise attendee here in Telluride, walking on stage to cheers as he introduced Saturday's screening of the 20th Century American historical drama.
FDR had secrets, Michell's film reiterates. The beloved U.S president who got the country through the Great Depression and took it into World War II was able to keep his paralysis from polio hidden from the American public. Even more buried at the time were the details of his apparent romances with numerous women, including a distant cousin near his rural upstate New York home.
Uniquely, Bill Murray on Saturday compared playing FDR to performing at Carnegie Hall and cleaning out his garage. Things he never imagined doing in his life. However he said he wasn't against giving it a shot.
"I knew it would be hard," Murray explained but added, "If I worked really hard and really tried I'd get something out of it."
In the film, scheduled to open in theaters in early December, Murray's FDR navigates his private relationships even as his wife Eleanor tends to her own quiet affairs and his relationship with distant relative Daisy (Laura Linney) coincides with a weekend state visit by the King of England seeking the American presidents's help on the verge of war.
A Royal Affair
Marital indiscretions and a monarchy collide head on in another film seen by American audiences for the first time here in Telluride, Nikolaj Arcel's A Royal Affair. Danish actor Mads Mikkelsen stars as an aide to a mentally unbalanced King. Along the way he and the young Queen of Denmark develop a forbidden relationship. Domestic audiences will remember Mikkelsen for his turn as a villain in the recent James Bond movie, Casino Royale. This weekend's he was also an acting honoree at the Telluride Film Festival, 

A Royal Affair
depicts a scandal familiar to Scandinavians that doesn't require that an audience have a detailed knowledge of European history to appreciate its universal themes. Nikolaj Arcel, writer of the original film version of
Girl With the Dragon Tattoo
, has created an engrossing  costume drama that follows Mikkelsen's insightful doctor who betrays a mad king by taking up with his wife. It opens on November 9th.
Mikkelsen also stars this year in Thomas Vinterberg's The Hunt, a Cannes competition entry that also screened here in Colorado and for which Mikkelsen won the best actor prize at the French festival.
Amour
The big winner in Cannes this year, anchored by stunning lead performances from legendary  French actors Jean-Louis Trintignant and Emmanuelle Riva, had Telluride audiences buzzing all weekend. Extra festival showings were added to meet demand here. Delicately directed by Austrian Michael Haneke, Amour is an end of life love story set amidst a devoted couple's battle to gracefully navigate the natural disintegration of their union. 
Michael Haneke's tender touch in this new movie surprised many who are fans of his films The White Ribbon, Cache, and Funny Games. Meanwhile those who were turned off by his previous work have been won over by this film. Witness the Cannes jury. President Nanni Moretti apparently wasn't a Haneke fan but his group of jurors gave Haneke the best picture prize in Cannes. At the aforementioned dinner on Saturday night in Telluride, Cannes juror Alexander Payne was still praising the movie. Buzz this weekend was that it may just be a surprise contender for best picture when the Oscar nominations are announced.
Amour opens in theaters on December 19th.
Argo
Speaking of golden statues, Ben Affleck's Argo, is clearly an early awards season contender. Local attendees speculated that Paul Thomas Anderson's The Master or Terrance Malick's To The Wonder might get a sneak peek slot here but it was Argo that secured the sole surprise sneak preview in Telluride this weekend. 

A suspense-filled look at a secret plot that rescued some of the Americans captured in Iran in 1979, Affleck's
Argo
was immediately buzzed about as a viable Oscar contender. The plot involves a fictitious movie project that was created as the cover for a covert plot to free U.S. Embassy employees who secretly sought asylum in the Canadian Embassy in Tehran. Hollywood and the U.S. government quietly conspired to create the fake movie and successfully freed the would be hostages. 
More than one high profile Academy member praised the film this weekend. They rejoiced in the positive portrayal of the movie business afforded by Affleck. At a festival that loves movies as much as Telluride, Affleck's Argo was beloved. At the height of the film's tense climax, the  Telluride audience burst into applause. Of course, it's way too early to say -- awards season is a marathon and this is just the first mile -- but persistent talk throughout the weekend was that Argo is clear cut contender for an best picture nod.
"This is one of the few festivals that really about seeing movies, rather than walking around and just talking about [them]," gushed Ben Affleck on stage this weekend here in Telluride.
Argo will open on October 10th
3 More to Watch
Three films that probably won't see American screens until sometime next year were among the best that Telluride had to offer this year. Noah Baumbach's Frances Ha starring Greta Gerwig as a Brooklyn twenty-something was a sheer joy to experience. Actress turned director Sarah Polley's Stories We Tell, a surprising documentary about her family secrets, was a moving and powerful tribute to her parents. Finally, Gerard Barrett's first feature, Pilgrim Hill, was a quietly powerful portrait of an Irish farmer that will resonate in this time of economic insecurity. 

The Telluride Film Festival takes place August 31-September 3.
Follow Eugene Hernandez on Twitter.
Follow Movieline on Twitter.