WATCH: Red Band Trailer For The To Do List, In Which Aubrey Plaza Does Cunnilingus And 'Skorts'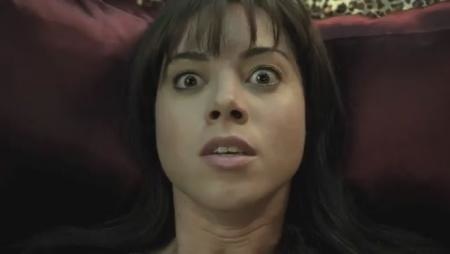 Aubrey Plaza makes sex look funnier than usual in the Red Band trailer for The To Do List. Directed by Maggie Carey (The Jeannie Tate Show),  the film follows high-school grad Brandy (Plaza) as she attempts to work her way through a list of sex acts — many of which end with the term "job" — in preparation for college. Andy Samberg, Donald Glover, Rachel Bilson, Chrisopher Mintz-Plasse, Carey's husband, Bill Hader and Clark Gregg are also among the cast.
Before you get all hot and bothered about the plot, The To Do List doesn't arrive in theaters until Valentine's Day 2013, but the Parks and Recreation actress makes a good case for creating an iCal entry. If the rest of the movie is as funny as the oral sex scene depicted here — involving the doe-eyed and deliciously deadpan actress, Glover and a kid who walks in on them — The To Do List could actually make the heinous Hallmark holiday worth celebrating.
I can't help noting, by the way, that Plaza's character in the movie shares the name of a classic 1970s radio hit by Looking Glass,  "Brandy (You're A Fine Girl)," which is interesting given that the actress' parents reportedly named her after the song "Aubrey" by another big '70s band, Bread.  Coincidence?
Follow Frank DiGiacomo on Twitter.
Follow Movieline on Twitter.