Christopher Mintz-Plasse on Fright Night, Straying from the Original, and Hooking Up with Aubrey Plaza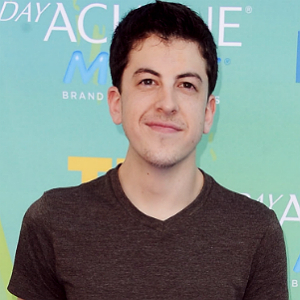 Don't be surprised if Craig Gillespie's new, updated Fright Night bears only partial resemblance to the 1985 cult horror-comedy of the same name; with a suburban Las Vegas setting, a much cooler teen protagonist, and a modern milieu filled with iPods and 4G-equipped cell phones, the tale of a high schooler's (Anton Yelchin) battle against the seductive vampire who moves in next door (Colin Farrell) is more like a slick second-cousin to the totally '80s Chris Sarandon/William Ragsdale-starring original. And as such, 22-year-old Christopher Mintz-Plasse isn't your parents' "Evil" Ed Thompson. Far from it.
Instead, "Evil" Ed circa 2011 is a much different guy than the squeaky BFF played by Stephen Geoffreys in Tom Holland's beloved original film: He's still a nerd, of course, but he's now a bitter one, abandoned for a life of popularity and girls by former geek-in-arms, Charley Brewster (Yelchin). Screenwriter Marti Noxon shakes things up a bit by weaving the soured relationship between Charley and "Evil" Ed into the film, which begins as Ed attempts to warn his ex-BFF about suspicions that a string of disappearances are linked to the good-looking single newcomer to town, Jerry Dandridge (Farrell).
Movieline spoke with Mintz-Plasse (Superbad, Role Models, Kick-Ass) last month during Comic-Con about differentiating his character from Geoffreys's original, why the original Fright Night was due for the remake treatment, and his efforts to hook up with Aubrey Plaza in the now-filming The To Do List.
What were you looking for in terms of roles when you came across Fright Night?
I had just gotten done promoting, I believe, the Kick-Ass DVD, and I was doing a lot of music with my band at the moment, so I was concentrating on that and I didn't shoot a movie for a few months. My agent sent me the script and I saw that Craig [Gillespie] was attached -- I was a big fan of Lars and the Real Girl, I thought he did an amazing job with that -- Colin [Farrell], Anton [Yelchin], and Toni Collette were all attached, so I thought, this is an incredible cast! I've got to look at what the role is. And it was almost like a cameo, in a way; I'm in the first 15 minutes and I come back for the last 15 minutes, and I was like, if done right that can be a very memorable role for the movie. The script was great, the character was great -- I went in and auditioned and got the part.
Had you already seen the original film?
I didn't. Once I went into the audition and got the callback I went out and bought it and watched it and thought it was awesomely campy, very '80s.
Totally '80s.
Yeah! That's the charm about it. I thought this was the perfect movie to remake, because it's not amazing, it's not incredible -- you don't want people to be like, 'They're remaking, like, The Goonies!' That movie is unbelievably perfect, but this movie was kind of... there was room to do an update. So I enjoyed the '80s version and thought this was going to be very modern for an audience today and I enjoyed that.
How would you describe the difference between your "Evil" Ed and the original film's "Evil" Ed?
In this script, Marti [Noxon] really concentrated on Charley and "Evil" Ed's friendship. In the old movie they were friends but you didn't really understand if they dug each other, I don't know. It was confusing a little bit. So they cleared it up that he doesn't like me anymore because I'm still into the nerdy stuff and he has a girlfriend, blah blah blah, and he's kind of embarrassed by me. I didn't want to play it like the actor from the '80s because he did such an amazing job and he's so out of this world wacky, kind of like, 'Brewsterrrr!' This energy that I couldn't bring because it wasn't right for this script. [Spoiler Alert for those who haven't seen the original.] So I just took it the more toned down, depressing route, with this kind of hatred for Anton in the beginning that I get to unleash later on as a vampire. [End Spoilers.]
It's more interesting to tweak the nerd themes of Fright Night now that we're in the age of the geek, so to speak. But tell me about the video you shot for the film, the home video of Ed and Charley years ago that Ed threatens to reveal to the world._
Oh, the Squid Boy and all that! That was the first day of shooting. We shot that the first day. Anton and I didn't know each other as well as we do now, so our first impressions of each other were just like, with scuba gear on and make-up and we're just going, 'Squid Boy!!' It was fun though, it was a blast. I want to see that full video cut together.
That's got to be on the DVD.
I agree. It probably will be. I'll pitch it.
Do you recommend that as a good way to get to know someone on the first day?
Shooting viral videos? [Laughs] Yeah! I then realized he was good at improv and he was down to have fun. It was very goofy, then we went out and had a couple of drinks and hit it off.
Speaking of viral videos -- there was that Funny or Die sketch you shot recently.
With Davey [Franco]? Davey's in this movie as well, and he's awesome. That was a game I used to play with my improv team in high school and the point is, you try to make each other laugh and if you don't, you get closer and closer.
It's chicken!
It's chicken, yeah. Davey and I did it on set, and Davey was like, 'This is genius -- we have to film this!' We went home and filmed it and he was right, people loved it. It's super gay. [Laughs]
It shows a side of you that some folks haven't seen before -- a distinctly R-rated side. That was fun to see.
Good, thank you!
Considering where you are in your career now, do you feel a desire to push those boundaries a bit more than before?
I mean, I've been lucky enough to do movies that are my sense of humor, like Superbad and Role Models and Year One -- not Year One, but the other two are rated R and I was allowed to swear and make dick jokes, which is what I like to do, sadly! So I've been lucky enough to work on movies that I'd want to see.
Ah, so it's not that you're this nice young man who's been coerced to say foul things by people like Judd Apatow just in the movies?
[Laughs] No way, I want those! I think I'm a nice guy, but I've got a very dirty mouth as well. I'm keeping it contained for this interview.
Since we're at Comic-Con, I'm reminded of your performance in Role Models. Congrats to you guys for being ahead of the pack when it comes to LARPing movies! I think I have to try it.
Try it out, it's fun! David Wain, he created an awesome world. We were the first! Actually, there's a good documentary about it.
You're currently working on The To Do List?
Yeah, it's Bill Hader, Aubrey Plaza, Donald Glover, Johnny Simmons... the cast is incredible.
I like the concept -- the female perspective on a "losing it" type of sex comedy set-up is something new.
Yeah, she's the valedictorian in high school and she has no sexual experience. Rachel Bilson plays her older sister, who's kind of a slut and says, 'You have to know the ways of sex if you're going to college.' So she just creates a list of sexual activities that she needs to check off.
How are you involved in this scheme?
I play Johnny Simmons's best friend, and he has a big crush on her. But then I hear about the list and I'm an asshole and I go hook up with her. [Laughs]
You get to hook up with Aubrey Plaza?
Yeah, in a comedic way. It's not going to be sexy. She is awesome. She's hilarious and she's super beautiful. This is her starring role, this is her movie. I mean, she hasn't had her starring movie yet. She's awesome on Parks and Recreation.
When will you get your starring role?
I don't know! Kick-Ass was awesome, that was kind of a starring role in a way. But I'm slowly getting there. I've been playing a lot of music with my band, so I'm kind of doing both right now. It's a rock band, garage rock, called The Young Rapscallions.
Ooh, rapscallions.
[Laughs] We were like 17 when we thought of the name. We were young!