Dax Shepard Compensates For Crappy Hit And Run Box Office By Dissing Age Of The Expendables 2 Cast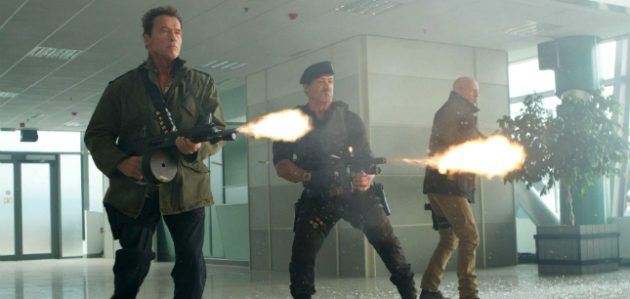 Speaking of old....Dax Shepard deployed one of the oldest marketing tricks in the book on the Conan show on Monday when he diverted attention from the lame box-office performance of his movie Hit and Run by poking fun at the aging action stars who kicked his cinematic ass, the cast of The Expendables 2.

Shepard told host Conan O'Brien that the cast of the Sylvester Stallone-directed The Expendables 2 were "all show and no go" when it came to their collective well-muscled appearance.   "It looks like the zombie apocalypse is saving the earth," Shepard said in reference to the veteran ensemble.
Alas, Hit and Run might have benefited from scenes of a zombie apocalypse, or something that would have raised moviegoer interest. The picture, which also starred Bradley Cooper and Shepard's real-life girlfriend Kristen Bell grossed just $5.9 million in its initial five-day opening. The movie ranked 10th for the weekend, well behind The Expendables 2, which saw a $13.5 million weekend and a 15-day domestic box-office take of $52.3 million.
Feeling a little insecure there, Dax?
Follow Frank DiGiacomo on Twitter.
Follow Movieline on Twitter.