Anna Karenina Teases High Society Sexual Scandal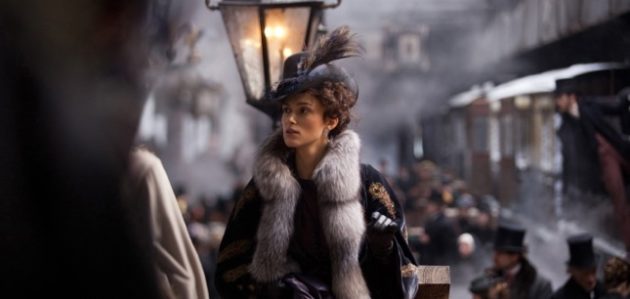 Fittingly lavish, new images from Anna Karenina, the splendor of imperial Russia is merely the backdrop for a scandalous love affair. But strict rules and mores adhered to (and then broken) by high society have long been enticing setting for 99 per centers (and their friends) throughout the ages to witness aristocratic crash and burns through fleshly indulgences. And the screen version of Leo Tolstoy's novel appears to not hold back.

Keira Knightley, Jude Law, and Aaron Taylor-Johnson (aka Aaron Johnson) star in the 19th century epic, directed by Joe Wright (Atonement, Pride & Prejudice) and adapted by Oscar-winner Tom Stoppard (Shakespeare in Love).
Oscar is undoubtedly on filmmakers' minds not to mention distributor Focus Features, which will debut Anna Karenina at the upcoming Toronto International Film Festival, the annual September event that is the virtual launch-pad of the annual awards race.
Anna Karenina has graced the big screen and small screen throughout the decades. Greta Garbo played the titular Russian aristocrat who falls in love with the dashing Count Vronsky, jeopardizing her social standing and not to mention her aristocratic husband's displeasure. Jude Law plays the wronged husband in the latest Anna Karenina and Aaron Johnson's Count Vronsky is the object of desire.
[GALLERY: Check out the latest photos from Anna Karenina]
(Anna Karenina trailer is below along with the film's official log-line)
Acclaimed director Joe Wright's bold, theatrical new vision of the epic story of love is stirringly adapted from Leo Tolstoy's great novel by Academy Award winner Tom Stoppard ("Shakespeare in Love"). The film marks the third collaboration of the director with Academy Award-nominated actress Keira Knightley and Academy Award-nominated producers Tim Bevan, Eric Fellner, and Paul Webster, following their award-winning box office successes "Pride & Prejudice" and "Atonement." The creative team also includes cinematographer Seamus McGarvey ("The Avengers"), three-time Academy Award-nominated production designer Sarah Greenwood ("Sherlock Holmes"), film editor Melanie Ann Oliver ("Jane Eyre"), hair and make-up designer Ivana Primorac ("Hanna"), Academy Award-winning composer Dario Marianelli ("Atonement"), and two-time Academy Award-nominated costume designer Jacqueline Durran ("Pride & Prejudice").
The timeless story powerfully explores the capacity for love that surges through the human heart while illuminating the lavish society that was imperial Russia. The time is 1874. Vibrant and beautiful, Anna Karenina (Ms. Knightley) has what any of her contemporaries would aspire to; she is the wife of Karenin (Jude Law), a high-ranking government official to whom she has borne a son, and her social standing in St. Petersburg could scarcely be higher. She journeys to Moscow after a letter from her philandering brother Oblonsky (Matthew Macfadyen) arrives, asking for Anna to come and help save his marriage to Dolly (Kelly Macdonald). En route, Anna makes the acquaintance of Countess Vronsky (Olivia Williams), who is then met at the train station by her son, the dashing cavalry officer Vronsky (Aaron Taylor-Johnson). When Anna is introduced to Vronsky, there is a mutual spark of instant attraction that cannot – and will not – be ignored.

The Moscow household is also visited by Oblonsky's best friend Levin (Domhnall Gleeson), an overly sensitive and compassionate landowner. Levin is in love with Dolly's younger sister Kitty (Alicia Vikander). Inopportunely, he proposes to Kitty but she is infatuated with Vronsky. Devastated, Levin returns to his Pokrovskoe estate and throws himself into farm work. Kitty herself is heartbroken when, at a grand ball, Vronsky only has eyes for Anna and the married woman reciprocates the younger man's interest. Anna struggles to regain her equilibrium by rushing home to St. Petersburg, where Vronsky follows her. She attempts to resume her familial routine, but is consumed by thoughts of Vronsky. A passionate affair ensues, which scandalizes St. Petersburg society. Karenin is placed in an untenable position and is forced to give his wife an ultimatum. In attempting to attain happiness, the decisions Anna makes pierce the veneer of an image-obsessed society, reverberating with romantic and tragic consequences that dramatically change her and the lives of all around her.

Director: Joe Wright ("Atonement," "Pride & Prejudice," "Hanna")
Writer: Tom Stoppard ("Shakespeare in Love"); Based on the novel by Leo Tolstoy
Cast: Keira Knightley, Jude Law, Aaron Taylor-Johnson, Kelly Macdonald, Matthew Macfadyen,
Domhnall Gleeson, Ruth Wilson, Alicia Vikander, Olivia Williams, Emily Watson
MPAA Rating: R