Choo-Choo! Here Comes a Killer Adaptation of Anna Karenina!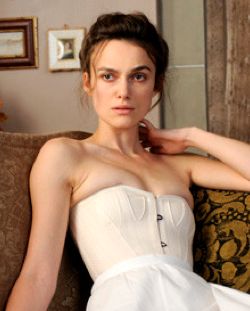 Focus Features just announced that Joe Wright, the director of Pride & Prejudice and Atonement, will helm a new adaptation of Leo Tolstoy's Anna Karenina written by Tom Stoppard (who wrote the Oscar-winning screenplay of Shakespeare in Love, as well as countless revered plays). I think we're owed an oversize Tolstoy treat in 2011, don't you? We can't subsist on The Last Station for much longer. And wait until you hear who's set to star.
Your marquee thespians include Keira Knightley, Jude Law, and Aaron Johnson. I'm still coping with all of Knightley's gasping and spanking-related traumas in the trailer for A Dangerous Method, but I'm perfectly content watching Law and Johnson swan about the big screen in a legitimate period piece. What is it about Knightley that so conjures a bygone time? I suppose she embodies the gawky primness that 19th-century writers loved in female protagonists. Accordingly, she strikes me as a pretty great choice for the role. Or am I missing some other, more obvious option? Are she and Jude Law not the Greta Garbo and Fredric March of our time? Please enlighten me.
Anyway, the full press release from Wright's patrons at Focus Features -- for whom he also made Pride & Prejudice, Atonement and Hanna -- is below.
======
NEW YORK and LONDON, September 8th, 2011 - Joe Wright will direct the epic romance Anna Karenina, adapted from Leo Tolstoy's classic novel by Academy Award winner Tom Stoppard (Shakespeare in Love). The Working Title Films production will commence filming in the U.K. and Russia this month. Focus Features will distribute the movie domestically, and Universal Pictures International (UPI) will distribute the movie internationally, in the second half of 2012.
Anna Karenina marks Mr. Wright's third Working Title movie with Focus and UPI, following the award-winning boxoffice successes Pride & Prejudice and Atonement. Also for Working Title and UPI, he directed The Soloist; also for Focus, he most recently directed the hit adventure thriller Hanna.
Working Title co-chairs Tim Bevan and Eric Fellner are producing Anna Karenina with Paul Webster; the three were Academy Award nominees as the producers of Mr. Wright's Best Picture-nominated Atonement. Also with Focus, Mr. Webster was a Golden Globe Award nominee as producer of Eastern Promises.
Keira Knightley, Academy Award-nominated for Pride & Prejudice, will star as Anna Karenina in her third collaboration with Mr. Wright. Ms. Knightley will be starring opposite two-time Academy Award nominee Jude Law, as Anna's husband Aleksei Karenin; and Aaron Johnson (Nowhere Boy), as Count Vronsky. Rounding out the cast will be Kelly Macdonald (Boardwalk Empire), Matthew Macfadyen (Pride & Prejudice), Domhnall Gleeson (Harry Potter and the Deathly Hallows), Alicia Vikander (The Seventh Son), two-time Academy Award nominee Emily Watson, Olivia Williams (Hanna), and Ruth Wilson (Luther).
Also reteaming with Mr. Wright on Anna Karenina are Academy Award-winning composer Dario Marianelli, twice-Academy Award-nominated costume designer Jacqueline Durran, and three-time Academy Award-nominated production designer Sarah Greenwood. The cinematographer will be Academy Award winner Philippe Rousselot. Melanie Ann Oliver (Focus' Jane Eyre) will edit the feature. Sidi Larbi Cherkaoui will be the choreographer on the movie.
The story unfolds in its original late-19th-century Russia high-society setting and powerfully explores the capacity for love that surges through the human heart, from the passion between adulterers to the bond between a mother and her children. As Anna (Ms. Knightley) questions her happiness, change comes to her family, friends, and community.
Focus Features CEO James Schamus said, "Joe Wright is a master filmmaker, and with Tom Stoppard's brilliant screenplay this Anna Karenina will be full of both pageantry and emotion. To realize Joe's vision, we have the perfect producing partners in Working Title and Paul Webster, whose acumen is unsurpassed. With Keira Knightley playing this iconic role and a splendid cast supporting her, today's moviegoers will be drawn to this powerful story."
Mr. Bevan commented, "Everyone at Working Title is proud to affirm a longtime collaboration with Joe Wright through this, our fourth picture together. That we are able to re-convene cast and crew from Pride & Prejudice and Atonement makes it all the more exciting. We anticipate that this will be a defining screen version of Anna Karenina."
###