WATCH: Arnold Schwarzenegger Will Be Back As Leading Man In The Last Stand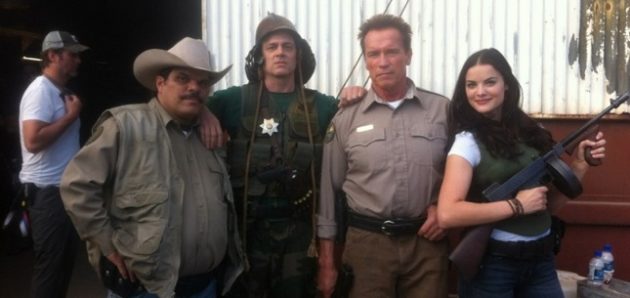 He was the governor. Next year, he'll be the sheriff.  In The Last Stand, Arnold Schwarzenegger plays the sheriff of a small town on the Mexican border that must  stop a heavily armed drug kingpin and his henchmen after the extreme baddie breaks out of prison and makes a run for Mexico. If you're wondering how an extremely muscular dude with an Austrian accent ends up the sheriff of a podunk North-of-the-Border town, Schwarzenegger's character has a back story:   He's a former Los Angeles cop  who departed the force after a bungled police operation left his partner crippled. (I start to speak with an Austrian accent after I spend more than two weeks in L.A., too.)
In addition to heralding Arnold's return in a major role, The Last Stand will also mark the English-language debut of  South Korean director Kim Jee-Woon (The Good, The Bad, The Weird and I Saw The Devil) and features what looks like a demented Johnny Knoxville playing a cross between Murdock from The A Team and Barney Fife from The Andy Griffith Show.  Check out the trailer below, which contains at least one potential catch phrase — "I'm the Sheriff" — which is practically guaranteed to become a t-shirt.
Watch It on YouTube.
Follow Frank DiGiacomo on Twitter.
Follow Movieline on Twitter.