Jesse Eisenberg Eyes Eco-Terrorist Pic; Mary Steenburgen Eyes Las Vegas: Biz Break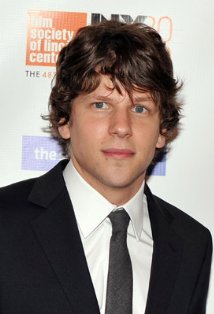 Also in Monday morning's round-up of news briefs, Red Hook Summer and 2 Days In New York lead an unspectacular weekend in the specialty box office. The Dark Knight Rises leads the way for another weekend overseas. And remembering Al Freeman Jr.

Jesse Eisenberg Eyes Night Moves for Old Joy
Eisenberg is in talks to play the leader of a group of eco-terrorists who plot to blow up a dam in the thriller, directed by Kelly Reichardt. Dakota Fanning is also in talks to play the wealthy girl who funds the destructive scheme, The Guardian reports.
Mary Steenburgen Joins Las Vegas
Steenburgen joins the comedy from CBS Films and Good Universe in which she'll be the object of affection in a love triangle. In the film, a group of friends throw a Las Vegas bachelor party for the one remaining single member of their group, Deadline reports.
Red Hook Summer, 2 Days In New York Debuts So-So: Specialty Box Office
A pair of New York-centric limited releases debuted in exclusive runs in NYC over the weekend and the numerical results were decent at best. Red Hook Summer and
2 Days In New York lead specialty openers with limited runs. Spike Lee's latest Brooklyn tale Red Hook Summer bowed in four locations in Manhattan and Brooklyn, averaging $10,525. The film doesn't have major stars and its distributor touted its opening on four screens instead of the "safer route" of two locations as many specialty openings do, Deadline reports.
Foreign Box Office: Dark Knight Rises Still Tops
The box office was down overall with summer heat and the Olympics blamed for a suppression of the numbers. The Dark Knight Rises took the top spot overseas, taking in $34.2 million, down 50% from the prior week, from 58 offshore markets, THR reports.
R.I.P. Al Freeman Jr.
The son of African American stage actor Al Freeman (1884-1956), and star of stage, TV and film, Al Freeman Jr., has died at the age of 78 years old. In 1967, Freeman Jr. co-starred with Shirley Knight in the film version of Leroi Jones' (Amiri Baraka's) off-Broadway play Dutchman, which earned him critical kudos, and further attention for his portrayal of a black subway passenger victimized by a frantic white woman, Shadow and Act reports.