Fifty Shades of Grey Classical Album: The Soundtrack To Sexytime?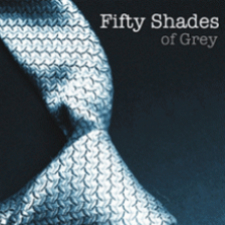 You can bet your Ben Wa balls E.L. James is going to cash in on her Fifty Shades of Grey merchandising empire once the steamy lit porn's movie adaptation gets going. But while Christian Grey and Anastasia Steele have yet to be cast, you can start getting in the mood with the official 50 Shades of Grey Classical Album, featuring fifteen classical ditties referenced in the books that got James' creative juices flowing — a preview of the eventual soundtrack to Christian Grey's big screen S&M outing?
Fifty Shades of Grey - The Classical Album will include such sensual classics as Thomas Tallis's 'Spem in Alium,' a tune put to squirmy, orgasm-inducing use by Christian and Ana in the book. If you recall, Christian ties Ana up and plops a set of headphones on her and then THIS goes down:
"The singing starts again … building and building, and he rains down blows on me … and I groan and writhe … Lost in him, lost in the astral, seraphic voices … I am completely at the mercy of his expert touch …
Ahem. Not coincidentally, sales of 'Spem in Alium' have since skyrocketed in the UK.
The album, released by EMI Records digitally in the U.S. and Canada on August 21, and on CD September 18, promises to "[set] a mysterious and alluring atmosphere with just the slightest hint of danger." Mark your calendars (or pre-order now) and get ready for Fifty Shades to bring sexy back... way back. Like, from the 16th century.
Full track listing:
1 Lakmé (Act I): Flower Duet (Mady Mesplé, Danielle Millet)
2 Bach: Adagio from Concerto #3 BWV 974 (Alexandre Tharaud)
3 Villa-Lobos: Bachianas Brasilerias #5 - Cantilena (Barbara Hendricks)
4 Verdi: La Traviata Prelude (Riccardo Muti / Philharmonia Orchestra)
5 Pachelbel: Canon in D (Sir Neville Marriner/ Academy of St. Martin-in-the-Fields)
6 Tallis: Spem in Alium (The Tallis Scholars)
7 Chopin: Prelude #4 in E minor, Largo (Samson François)
8 Rachmaninoff: Piano Concerto #2 - Adagio Sostenuto (Cecile Ousset, Sir Simon Rattle / CBSO)
9 Vaughan Williams: Fantasia on a Theme by Thomas Tallis (Sir Adrian Boult / LPO)
10 Canteloube: Chants d'auvergne, Bailero (Arleen Auger)
11 Chopin: Nocturne #1 in B-flat minor (Samson François)
12 Faure: Requiem - In Paradisum (Choir of King's College, Cambridge / Stephen Cleobury)
13 Bach: Goldberg Variation - Aria (Maria Tipo)
14 Debussy: La Fille Aux Cheveux de Lin (Moura Lympany)
15 Bach: Jesu Joy of Man's Desiring (Alexis Weissenberg)