Toronto International Film Festival Unveils Galas and Special Presentations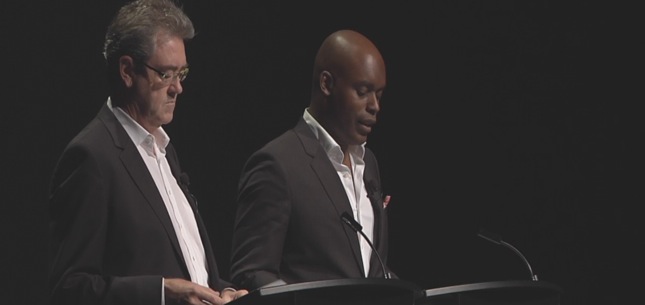 One of North America's biggest annual film events released details of its lineup Tuesday morning including 17 Galas and 45 "Special Presentations" that will screen in the 37th Toronto International Film Festival in September. Festival CEO and Director Piers Handling as well as TIFF Artistic Director Cameron Bailey announced the lineup this morning in Toronto at a live event about this year's festival, which includes 38 world premieres. As revealed earlier, Looper with Joseph Gordon-Levitt and Bruce Willis will open the festival.
Debuts from directors worldwide including Andrew Adamson, Ben Affleck, David Ayer, Maiken Baird, Noah Baumbach, J.A. Bayona, Stuart Blumberg, Josh Boone, Laurent Cantet, Sergio Castellitto, Stephen Chbosky, Lu Chuan, Derek Cianfrance, Costa-Gavras, Liz Garbus, Dustin Hoffman, Rian Johnson, Neil Jordan, Baltasar Kormákur, Shola Lynch, Deepa Mehta, Roger Michell, Ruba Nadda, Mike Newell, François Ozon, Sally Potter, Robert Pulcini & Shari Springer Berman, Eran Riklis, David O. Russell, Tom Tykwer & Andy Wachowski & Lana Wachowski, Margarethe von Trotta, Joss Whedon and Yaron Zilberman are in the lineup.
TIFF takes place September 6 - 16. Today's lineup follows. More details from the festival will be announced the coming weeks...

"We are thrilled to announce so many exciting and prestigious films today, with many more to follow," said Handling in a statement. "This year's Festival is looking particularly strong with bold, adventuresome work coming from established and emerging filmmakers."
"This year we present our most diverse Gala programme to date with films from Japan, China, India, the United Kingdom, Denmark, Italy, USA and Canada," added Bailey. "Toronto's red carpet is a global one and we're excited to welcome some of the world's best filmmakers and greatest stars to Canada."
Toronto lineup details provided by the festival:
Galas:
Looper by Rian Johnson, USA World Premiere (Opening Night Film)
In the futuristic action thriller Looper, time travel will be invented – but it will be illegal and only available on the black market. When the mob wants to get rid of someone, they will send their target 30 years into the past, where a "looper" – a hired gun, like Joe (Joseph Gordon-Levitt) – is waiting to mop up. Joe is getting rich and life is good… until the day the mob decides to "close the loop," sending back Joe's future self (Bruce Willis) for assassination. Also starring Emily Blunt, Paul Dano and Jeff Daniels.
A Royal Affair by Nikolai Arcel, Denmark/Sweden/Czech Republic/Germany North American Premiere
A Royal Affair is a gripping tale of brave idealists who risk everything in their pursuit of freedom for the people. Above all, it is the story of a passionate and forbidden romance that changed an entire nation. Starring Mads Mikkelsen and Alicia Vikander.
Argo by Ben Affleck, USA World Premiere
When militants storm the U.S. embassy in 1979 Tehran, six Americans manage to slip away. Knowing it's only a matter of time before they are found, a CIA "exfiltration" specialist comes up with a plan to get them out of the country: a plan so incredible, it could only happen in the movies. Starring Ben Affleck, Bryan Cranston, John Goodman and Kyle Chandler.
The Company You Keep by Robert Redford, USA North American Premiere
Jim Grant (Robert Redford), a civil rights lawyer and single father, must go on the run when a brash young reporter (Shia LaBeouf) exposes his true identity as a former 1970s radical fugitive wanted for murder. Sparking a nationwide manhunt, Grant sets off on a cross-country journey to clear his name. Also starring Susan Sarandon, Terrence Howard, Anna Kendrick, Stanley Tucci, Chris Cooper and Nick Nolte.
Dangerous Liaisons by Hur Jin-ho, China North American Premiere
As war looms in Shanghai, glamorous libertine Mo Jietu (Cecilia Cheung) runs into playboy Xie Yifan (Dong-gun Jang), an ex-boyfriend who's never stopped loving her. She persuades him to play a treacherous game: Xie must seduce the innocent and naïve Du Fenyu (Zhang Ziyi) and then dump her. But the game becomes increasingly dangerous as Xie falls in love with Du, leading them all to tragic and shocking consequences.
English Vinglish by Gauri Shinde, India World Premiere
Money, fame and a knowledge of English. In India, these 3 factors play a huge role in how society judges an individual. English Vinglish is the story of Shashi, a woman who does not know English and in turn is made to feel insecure by her family and society at large. The film is the lighthearted yet touching and transformational journey of Shashi. Circumstances make her determined to overcome this insecurity, master the language, teach the world a lesson on the way to becoming a self assured and confident woman. This film marks the comeback of India's biggest female star, Sridevi.
Free Angela & All Political Prisoners by Shola Lynch, USA/France World Premiere
Legendary radical activist Angela Davis' words and actions made her a revolutionary icon in the 1960s. The documentary Free Angela & All Political Prisoners tells the dramatic story of how a young philosophy professor's social justice activism implicates her in the botched kidnapping attempt of a judge that ends in bloody shootout. Newsweek asks: what would prompt Angela Davis, "the daughter of the black bourgeoisie, to take a desperate turn to terrorism?"
Great Expectations by Mike Newell, United Kingdom World Premiere
Based on the Charles Dickens classic. Orphan Pip rises from humble beginnings thanks to a mysterious benefactor. Moving through London's class-ridden world as a gentleman, Pip uses his new status to pursue Estella, a beautiful, heartless heiress he's always loved. The shocking truth behind his fortune will have devastating consequences for everything he holds dear. Starring Holliday Grainger, Ralph Fiennes, Helena Bonham Carter and Jeremy Irvine.
Hyde Park on Hudson by Roger Michell, United Kingdom World Premiere
In June 1939, President Franklin Delano Roosevelt (Academy Award® nominee Bill Murray) and his wife Eleanor (Olivia Williams) host the King and Queen of England (Samuel West and Olivia Colman) for a weekend at the Roosevelt home at Hyde Park on Hudson in upstate New York. With Britain facing imminent war with Germany, the Royals are desperately looking to FDR for support. But international affairs must be juggled with the complexities of FDR's domestic establishment. Seen through the eyes of Daisy (Academy Award nominee Laura Linney), Franklin's neighbour and intimate, the weekend will produce not only a special relationship between two great nations, but also a deeper understanding of the mysteries of love and friendship.
Inescapable by Ruba Nadda, Canada World Premiere
One afternoon, on a typical day at work, Adib is confronted with devastating news: His eldest daughter, Muna, has gone missing in Damascus. Now Adib, who has not been back in over 30 years, must return to Syria and deal with his secret past in order to find her. Inescapable is a thriller about a father's desperate search for his daughter and the chaos of the Middle East he left behind.
Starring Alexander Siddig, Marisa Tomei and Joshua Jackson.
Jayne Mansfield's Car by Billy Bob Thornton, USA/Russia North American Premiere
Jayne Mansfield's Car is a funny, poignant and searching look at three generations of fathers and sons in the South during the tumultuous '60s. It follows the family's heartfelt — and sometimes hilarious — struggles with long-held resentments, secrets, the memories of war, and how life, death and loss shaped them all. Starring Robert Duvall, Kevin Bacon, Billy Bob Thornton and John Hurt.
Love, Marilyn by Liz Garbus, USA World Premiere
Nearly 50 years after her death, two boxes of Marilyn Monroe's private writings and musings were discovered in the home of her acting coach. These papers, brought to life in this innovative documentary film by some of our contemporary icons and stars, give us a new understanding of Monroe — revealing her carefully guarded inner life. Featuring Elizabeth Banks, Lindsay Lohan, Evan Rachel Wood, Ben Foster, Uma Thurman, Paul Giamatti, Viola Davis, Jeremy Piven, Ellen Burstyn, Adrien Brody, Marisa Tomei and Glenn Close.
Midnight's Children by Deepa Mehta, Canada/ United Kingdom World Premiere
"Born in the hour of India's freedom. Handcuffed to history." Midnight's Children is an epic film from Academy Award-nominated director Deepa Mehta, based on the Booker Prize-winning novel by Salman Rushdie. At the stroke of midnight on August 15, 1947, as India proclaims independence from Great Britain, two newborn babies are switched by a nurse in a Bombay hospital. Saleem Sinai, the illegitimate son of a poor Hindu woman, and Shiva, the offspring of wealthy Muslims, are fated to live the destiny meant for each other. Their lives become mysteriously intertwined and are inextricably linked to India's whirlwind journey of triumphs and disasters. Starring Satya Bhabha, Shahana Goswami, Rajat Kapoor, Seema Biswas, Shriya Saran, Siddharth, Ronit Roy, Rahul Bose, Kulbushan Kharbanda, Soha Ali Khan, Anita Majumdar, Zaib Shaikh and Darsheel Safary.
The Reluctant Fundamentalist by Mira Nair, USA North American Premiere
Based on the best-selling novel of the same title, that was translated into 25 languages, The Reluctant Fundamentalist is a riveting international political thriller that follows the story of a young Pakistani man chasing corporate success on Wall Street, who ultimately finds himself embroiled in a conflict between his American dream, a hostage crisis and the enduring call of his family's homeland. Starring Riz Ahmed, Kate Hudson, Kiefer Sutherland and Liev Schreiber.
Silver Linings Playbook by David O. Russell, USA World Premiere
An intense, loving, emotional and funny family story from The Fighter director, David O. Russell. Bradley Cooper and Jennifer Lawrence find themselves partners in a secret arrangement to rebuild their broken lives. Robert De Niro yearns to get closer to his son (Cooper), as he tries to keep the family afloat with his compulsive bookmaking. Jacki Weaver and Chris Tucker co-star.
Thermae Romae by Hideki Takeuchi, Japan North American Premiere
Ancient Roman architect Lucius (Hiroshi Abe) is too serious. His inability to keep up with the fast-moving times costs him his job. When a friend takes the dejected Lucius to the public bathhouse to cheer him up, Lucius accidentally slips through time and resurfaces in a modern-day public bath in Japan. There, he meets aspiring young manga artist Mami (Aya Ueto), along with others of the "flat-faced clan." Shocked by the many inventive aspects of Japan's bathing culture, Lucius returns to ancient Rome and garners tremendous attention when he implements these novel ideas back in Rome. As he time-slips back and forth between ancient Rome and modern-day Japan, Lucius' reputation as the ingenious, new bath architect begins to grow.
Twice Born by Sergio Castellitto, Italy/Spain/Croatia World Premiere
Gemma visits Sarajevo with her son, Pietro. Sixteen years ago they escaped the war-torn city while the boy's father remained behind and later died. As she tries to repair her relationship with Pietro, a revelation forces Gemma to face loss, the cost of war and the redemptive power of love. Starring Penelope Cruz and Emile Hirsch.
Special Presentations:
A Few Hours of Spring by Stéphane Brizé, France North American Premiere
Forty-eight-year-old Alain Evrard is obliged to return home to live with his mother. This situation causes all the violence of their past relationship to rise to the surface. Alain then discovers that his mother has a fatal illness. In the last months of her life, will they finally be capable of taking a step toward each other?
Anna Karenina by Joe Wright, United Kingdom International Premiere
The third collaboration of Academy Award nominee Keira Knightley with acclaimed director Joe Wright, following the award-winning box office successes Pride & Prejudice and Atonement, is a bold, theatrical new vision of the epic love story, adapted from Leo Tolstoy's timeless novel by Academy Award winner Tom Stoppard (Shakespeare in Love). The story powerfully explores the capacity for love that surges through the human heart. As Anna (Knightley) questions her happiness and marriage, change comes to surround her. Also starring Jude Law and Aaron Taylor-Johnson.
Pages: 1 2