First Photo of Shooting Suspect James Holmes; Police Investigating 'Booby-Trapped' Apartment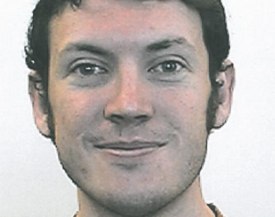 ABC's Denver affiliate has acquired and released the first image of James Holmes, the 24-year-old suspect in the shooting attack that left 12 dead and 50 injured this morning at an Aurora, Colorado, multiplex. Local police, meanwhile, have encountered a series of booby traps complicating their investigation of Holmes's apartment.

As a result, authorities are taking significant precautions as they proceed:
Police say the apartment of the suspect in a mass shooting at a Denver area movie theater is booby trapped, so they've evacuated five surrounding buildings.

Aurora Police Chief Dan Oates says bomb technicians are determining how to disarm flammable or explosive material in the third-floor apartment. "We could be here for hours or we could be here for days," said Oates.

Oates says pictures from inside the apartment are fairly disturbing and the devices look to be sophisticated.
Developing... Oh, and for the record: James Holmes is not "Jim Holmes" from the Colorado Tea Party. Nice one, GMA.