Breaking Dawn Scores, The Host Confuses at Twilight's Final Comic-Con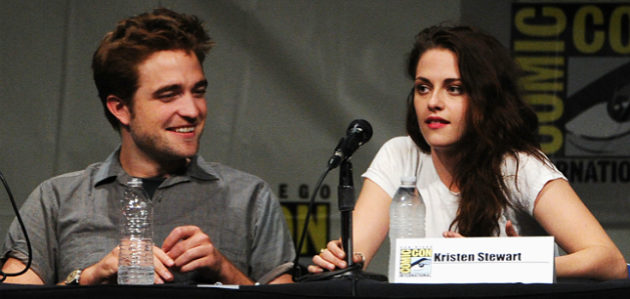 Though The Twilight Saga: Breaking Dawn director Bill Condon was absent this year from Comic-Con, (he was off finishing the November release but pre-taped tidings), he sent in his stead stars Kristen Stewart, Robert Pattinson, and Taylor Lautner, over two dozen cast members, Stephenie Meyer, and new footage for the thousands of attendees in Hall H Thursday morning that included a slew of fan-pleasing moments – Bella Swan devouring a mountain lion among them. But while Breaking Dawn's bright, well-paced clips (including the first seven minutes of the film) impressed, a surprise screening of footage from The Host – Meyer's other fantasy-sci-fi-romance YA lit adaptation –confused viewers, indicating an uphill battle ahead for distributor Open Road.

The good news for Summit is that sharing the first seven minutes of Breaking Dawn – beginning with newly turned Bella (Kristen Stewart) awakening into her bright new vampire future – was a smart move; not only did it drive fans into a tizzy, it highlighted how the Saga and its heroine have matured since previous installments.
For starters, Breaking Dawn Part 2 boasts a new and improved Bella – strong, sensual, and utterly confident. No longer the self-conscious, maladroit teenager who spent much of the previous four films worrying/being rescued by/pining over her vampire beau Edward Cullen, Bella awakens at the start of Breaking Dawn Part 2 in full vampire mode (and very, very hungry).
Condon speeds adeptly through her initial adjustment at a brisk pace, allowing for a few generous moments of languorous caresses and canoodling with Edward, who coos, "We're the same temperature now." (Cue collective Hall H swoon.) Suspense kicks in on Bella's first hunt; she's tempted by the delicious whiff of a lone mountain climber, but stops herself in time, instead finding her first meal in an unlucky mountain lion. Returning home with a proud Edward, she encounters old bestie/third wheel Jacob Black (Taylor Lautner), but he's changed, too; "imprinting" on your crush's infant will do that to a guy. Onetime rivals Jacob and Edward even have a moment together as Bella heads in to meet her newborn daughter for the first time, unaware of what's transpired while she's been vampirizing. And thus ends the first seven minutes of the film, which are gorgeously photographed, to boot.
A second clip showcased what a difference Condon's made with his actors. Having been rendered at times cardboard-like by other directors, the cast comes alive, so to speak, in a scene in which the Cullen family teaches Bella how to pass as a human now that super strength and speed – not to mention not having to breathe or blink anymore – have turned her into a blood-sucking bull in a china shop. Stewart in particular shows off her comic side, playing Bella's preternatural mannerisms with a nuanced sense of humor. She's matured as a performer, but more to the point, Vampire Bella is simply a better fit for her talents – bold, feline, and assured, she's the antithesis of Twilight's Bella Swan, which is really the point of Breaking Dawn and the end game that many critics of the character didn't grasp with previous sequels. Vampire Bella is who Bella Swan was born to become, and Breaking Dawn's final Comic-Con visit drove that point home.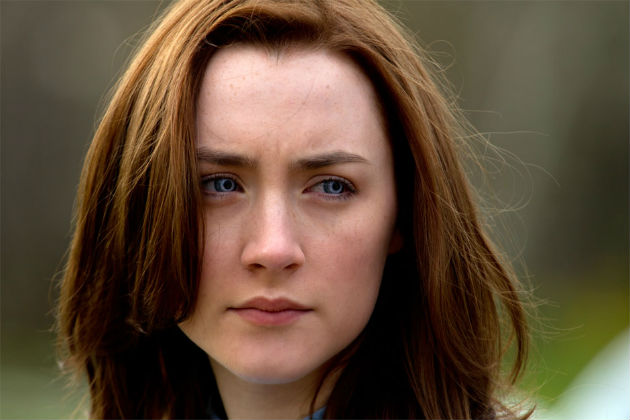 Less successful, however, was the clip package presented by surprise guest Andrew Niccol, who'd only recently wrapped filming on the sci-fi adaptation. Based on Meyer's Twilight follow-up novel, The Host stars Saoirse Ronan as a human named Melanie Stryder in an alternate future in which alien body-snatchers have taken over the majority of the world, possessing their human hosts while attempting to squeeze out the last remaining pockets of resistance. Ronan plays both Stryder and her alien "soul," Wanderer, who now dominates the body they share. Still following?
The Host footage opens as Wanderer awakens in Melanie's body – glowing blue eyes indicate the converted Ronan, who's tasked with ferreting out information from Melanie's memories (including one watery make-out flashback between Ronan and Max Irons' Jared, shot like a Nicholas Sparks romance). But Melanie's spirit is so strong she's still inside her own brain, shouting at her alien parasite via interior monologue. That all works better than it sounds, but then comes the complicated plot to muddle things up as Wanderer is captured by humans. By the time the reel ended with a car chase and stand-off between two rebel-driven trucks and their alien overlords, the crowd had grown restless, pouring disinterestedly out of Hall H. And all without even touching on film's love quadrangle between Melanie, Wanderer, and their dueling boyfriends!
So suffice to say there's a steep Host learning curve the studio needs to address for non-fans of the book ahead of the film's March 2013 release. Niccol creates a clear-enough dystopian world onscreen (earthy Western-like settings for the human resistance, sleek high-tech trappings for the aliens), but none of that will matter if audiences don't understand what the heck they're looking at.
Read more from Comic-Con 2012.
Follow Jen Yamato on Twitter.
Follow Movieline on Twitter.