Why Reboot Spider-Man? Marc Webb Talks Origins, Gwen Stacy, Spoilers, and Spidey's Future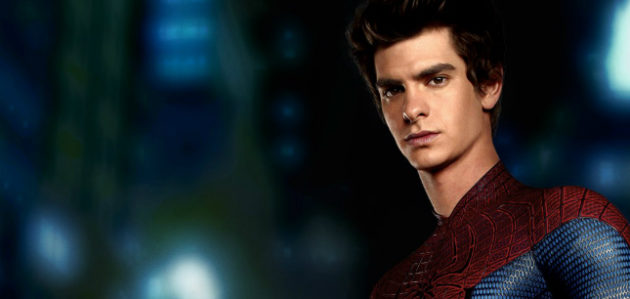 Rebooting the Spider-Man franchise just five years after Sam Raimi completed his own $2.4 billion trilogy was a controversial move in itself, let alone the idea of revisiting Spidey's origin story, one of the most familiar and popular beginnings in comic book lore, yet again. But whatever qualms you might have about The Amazing Spider-Man treading familiar ground — this time with Andrew Garfield as a skate-boarding high-schooler/vigilante nursing abandonment issues — director Marc Webb himself wrestled with the very same issues from the start.

Webb rang Movieline to answer a barrage of questions about this week's Spider-Man re-do, which re-frames the Marvel superhero's journey as a teenage Peter Parker's struggle with responsibility — not necessarily springing from great power so much as from choosing between doing good, and doing otherwise. Relationships are key here, not only between Peter and his Aunt May (Sally Field) and Uncle Ben (Martin Sheen), but between the orphaned hero and Dr. Curt Connors (Rhys Ifans), a newfound mentor and scientist with murky ties to the parents who left young Peter behind years ago.
But the heart of The Amazing Spider-Man, and that of Peter Parker himself, belongs to Gwen Stacy, Spidey's first love, brought to life with crackling energy by Emma Stone. Fans of the comics know where Peter and Gwen's story eventually leads — and while Webb remains amusedly mum on the future of his would-be Spider-Man trilogy, he acknowledges that some parts of Marvel canon cannot be tinkered with. "It's a very controversial part of the comics," he teased of Gwen's fate, "but let me tell you, I'm a fan of the comics."
Read on as Webb addresses criticisms of his reboot, discusses the importance of the Gwen Stacy-Peter Parker relationship, explains why some questions raised in The Amazing Spider-Man were left deliberately unanswered, and talks about that eyebrow-raising post-credits scene.
[Beware: Some spoilers follow.]
The marketing campaign for The Amazing Spider-Man has been attempting to court female audiences, and the romantic element is a significant part of the film. How important did you feel it was to explore and emphasize that side of the Spider-Man story?
Spider-Man is of course this huge action film — there's a boy behind the suit. But one thing that's different in Spider-Man comics from many other comics is how important the relationships are, in particular female relationships. You can talk a lot about villains, but Spider-Man's relationships with women are as iconic, if not more iconic, than the villains. You have Mary Jane, and you have Gwen Stacy, and Gwen is very different than what we've seen before. One of the reasons why I wanted to use Gwen — first and foremost, she's his first love in the comics. Let's just set the record straight, it's not Mary Jane. But I like the idea of following somebody who is as smart, if not smarter, than Peter Parker. And Emma Stone is the perfect woman to play somebody who is much more proactive, much more intelligent and feisty. I just like that dynamic in relationships in movies where they're kind of lovers as rivals, you know? There's this back and forth that I love, in the laboratory, and there's just this great bond that you feel between them. She's not just a prize, she's not just a damsel in distress. She's a confidante, and that was a really important thing.
And their relationship is so different because of this — it's like they're the only two people in the world.
I thought that, you're 17 years old and falling in love for the first time, some part of the thrill of that is openness, and you get to express a part of yourself and confide in somebody the things about you that no one else knows. It's such a thrilling part about being in a relationship at a young age, and all your feelings are apocalyptic, all your emotions are so huge, that I felt that was an interesting and new foundation to lay for the character. It also raises the stakes of that relationship. So it becomes more meaningful when he has to let it go.
For those people who are familiar with Gwen's fate in the comics, the depth and pull of their emotions makes it even more bittersweet. You even include a shot in the film in which Peter throws her out of a window that seems like foreshadowing of a sort…
[Laughs] Well, we'll have to see. It's a very controversial part of the comics, but let me tell you, I'm a fan of the comics.
But Gwen's story is kind of one of those things, among other developments and plot specifics, that you kind of have to stay faithful to canon on. Right?
Honor, yes. I mean, Marvel has certain hard and fast rules, like about the spider bite — you have to have Peter get bitten by a radioactive spider, and Uncle Ben's death has to transform Peter Parker into Spider-Man, you know what I mean? He has to learn a lesson by that. But I'm trying to find new inflections and new context so that the story feels new. Because I do think the character is different; you want to honor the iconic elements of Spider-Man but you also want to reinvent the world around him so that it feels interesting and new, and that's a tricky line to walk.
It seems even trickier for you in this instance more than other folks rebooting a familiar franchise, just because it hasn't been very long since the last Spider-Man movies and you're also starting with an origin story.
It's tricky. We have seen the origin of Spider-Man, but we haven't seen the origin of Peter Parker and that was my entrée into it.
It does feel like more of a Peter Parker story than a Spider-Man story, which a lot of fans of the comics might get hung up on. How do you respond to those criticisms?
For me, I thought about it a lot when I was building this up and I really felt like the Peter Parker that I was creating was a different reflection of the character. And in order for the audience to understand that, I thought I needed to build that from the ground up. To me, the most definitive moment in his life — way more important than the spider bite — is the moment he was left behind by his parents. It had a huge emotional impact on his character. That's where the narrative begins, but it's also where the character is defined in a very significant way. I mean, anybody who's left behind by their parents at that age is going to be distrustful of authority because authority has let him down before – so that's part of the dramatic texture of his relationship with Captain Stacey, and the conflict he has with Uncle Ben and Aunt May. It's also that he has this attitude, this sort of trickster, sarcastic quality, which is in some ways a defense mechanism that comes from that moment in his life. He's an outside, but he's an outsider by choice; he's a smart kid but he just wants to keep everybody at a distance. That's why I think the relationship with Gwen works so well; he can trust her.
We look at this as a reboot, so can we assume the story here will continue into at least a trilogy, but there are a number of plot points and questions raised in the film that don't necessarily get answered within the span of this film. How intentional was it to plant those seeds here?
I wanted a universe that could sustain a larger story, and the broader arcs I worked out with Jamie Vanderbilt early on. Obviously you want the movie to work on its own, but because so many of these movies typically have sequels, I wanted us to do a little bit of groundwork that could pay off in later movies. The mystery that surrounds Peter Parker's parents is the long shadow that's cast over all of the story, and there's a relationship between Peter's parents and Norman Osborne, and Oscorp, all that stuff… so much of the story is in and around Oscorp; Oscorp is the place from which all crazy shit emerges in this universe, and I like that idea, that simple notion that this obelisk, this Tower of Babel, is like a splinter in the side of the universe. All of the stories come out of there.
NEXT: Webb on Gwen's future, his stars' chemistry, Curt Connors and that post-credits scene
Pages: 1 2