Andrew Garfield Gives Biggest Spider-Man Interview Yet to... Tobey Maguire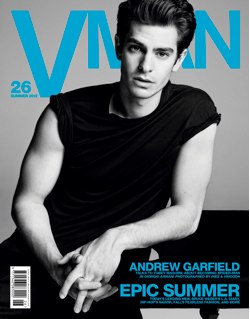 Andrew Garfield has passed along comments and notes from his inaugural Spider-Man stint for a while now, but he's saved his first truly in-depth press foray for a chat with the one guy on Earth who can literally relate to every word: Ex-Spider-Man franchise star Tobey Maguire.

The conversation is featured in the new issue of VMan, with numerous highlights from cover boy Garfield confiding to Maguire about the absurdity of the casting process...
"I'm friends with a few of the guys who were up for it, and I actually had dinner with Jamie [Bell] the night of my screen test and his screen test. We compared notes and war stories, and we kind of got past the ridiculousness of it all and thought it would be a nice idea to get everyone together and kind of interview each other about how messed up the process is, being against each other, and remember that we're all in it together, knowing that when you take off that bodysuit someone else is going to be stepping into your sweat immediately after. It's a weird kind of cattle call. But Marc [Webb] was great. He was very open and encouraging. You have the monitoring area with literally about 30 people judging you, looking at your face and whispering to each other—it's one of the most disconcerting and kind of humiliating things to go through, if you're aware of it."
...to Maguire singing his heir's praises...
"When it was coming together, I was particularly excited at two moments: one was when Marc Webb got involved. I think he's an interesting and cool choice. And then I was certainly curious as to who was going to play Peter Parker. When I heard it was you, I was literally like, fucking perfect! I just want it to be great, and I thought, what a great actor Andrew is, I'm glad that's what's happening here."
...to the true confession that we'd all been waiting for from Garfield:
"I was 19 when I saw [Spider-Man]. I got a pirated DVD at Portobello Market with my friend Terry McGuiness, and we went back to my skanky apartment in North London and we watched it twice in a row and then practiced your final line in the mirror! [...] Terry has this thick and every time I would recite that line he would laugh this very distinct laugh and say, 'No, man, you could never be fucking Spider-Man. You'll never be fucking Spider-Man!' I was so humiliated and upset. But, um... fuck you, Terry!"
Aw! Memories. Plenty more hits shelves May 17 in VMan.
[Photo: Inez van Lamsweerde & Vinoodh Matadin for VMan]