In Memoriam: Nora Ephron, AKA Nora and Me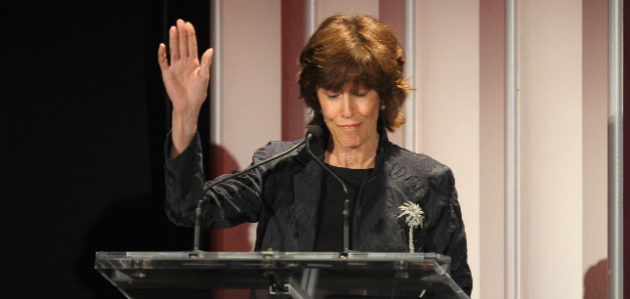 Film critic and author Marsha McCreadie remembers an afternoon spent with the late Nora Ephron discussing life, filmmaking, and the industry for her book The Women Who Write the Movies.
So how did I actually get to interview Nora Ephron, who died at the age of 71 two days ago in Manhattan? I had put in requests in the usual fashion, for a book I was writing on women screenwriters. But what sealed the deal was cornering Ephron in the woman's room of the Loew's 84th Street movie theater on her beloved upper west side of Manhattan, setting for You've Got Mail and When Harry Met Sally..., the topic of the latter — can a woman and man be friends without or with having sex? — having spawned innumerable rom-coms.

Ephron laughed, said O.K. As a former journalist she must have taken pity instead of bolting herself in a stall or calling a guard. A better question might be why she was at a public screening. But as a confirmed New Yorker who was frequently seen on the streets of the city making a movie, she was as much a fixture to the neighborhood as its inhabitants were to her. "It's just Nora making another film" was a typical comment on Columbus Avenue, tolerating the inconvenience of having crews on the block. By then Ephron was directing, too. "It isn't entirely the boys keeping women writers out. It's smart women realizing the real power is in directing," she said later. Ephron directions include Bewitched, You've Got Mail, Sleepless in Seattle, Mixed Nuts, Julie and Julia.
The thrice Academy Award-nominated Ephron (scripts for Silkwood, When Harry Met Sally..., Sleepless in Seattle) never wanted to be screenwriter, or in the movie business at all. "I wanted to be Dorothy Parker," Ephron told me the afternoon I spent with her, in her apartment at the Apthorp, before she decamped to the Upper East Side due to rising rents (and describing the end of her "love affair" with her famed apartment building in a June 2006 essay for the New Yorker).
Born in New York, but raised in Beverly Hills by her screenwriter parents Phoebe and Henry Ephron (Daddy Long Legs, Desk Set) she grew up among the witty, literate screenwriters from the 1930s and early 1940s. Some of the parties and Hollywood lore are detailed in Ephron's I Remember Nothing, an essay collection published two years ago. After graduating from Wellesley College in 1962, Ephron was a fact-checker for Newsweek, then a reporter for the New York Post. She freelanced personal essays, mainly on women's topics, often with an acerbic take on the women's movement, and even on some women — "I hate myself for what I'm going to do" was a super clever lead to a piece critical of her then-boss Dorothy Schiff of the Post. A breakthrough was her personal piece "Why I Hate My Breasts" for Esquire, ending with the line about women who complain their breasts are too big: "I think they are full of shit."
Ephron said she segued to scripts in the late 1970s because it was the vogue in New York then, and ironically, "I'm nothing if not a follower." Shortly after, while she was pregnant and living in Washington D. C. with then-husband journalist Carl Bernstein, the father of her two children, Jacob and Max, she said it was easier to write scripts than to leap around making journalistic deadlines.
Marriage number two — she rarely mentioned the first to writer Dan Greenberg — ended, resulting in Heartburn, her screenplay based on her own novel about the marriage. And especially after Silkwood, with Meryl Streep as real-life activist Karen Silkwood, Ephron became known as a screenwriter of women's parts, and about women's topics. Directed by Mike Nichols, Ephron wrote Silkwood with Alice Arlen. Another occasional co-writing partner has been her sister Delia, one of four Ephron sisters, first for This is My Life in 1992 (also Ephron's first direction), then Mixed Nuts and You've Got Mail.
Sleepless in Seattle was a career highlight: "Everything fell into place. The cast of my dreams. A very fast shoot. And the movie went through the roof. I'm sure I'll pay for it the rest of my life." Not really — a recent success was Ephron's 2009 Julie & Julia (with Meryl Streep as Julia Child), Ephron writing and directing, and reflecting her own "foodie" status. "Please, have some chicken," she pressed me during our interview. "I just cooked it. It's the only thing I'm really good at."
Pages: 1 2