Beasts of the Southern Wild Clip: Welcome to the Bathtub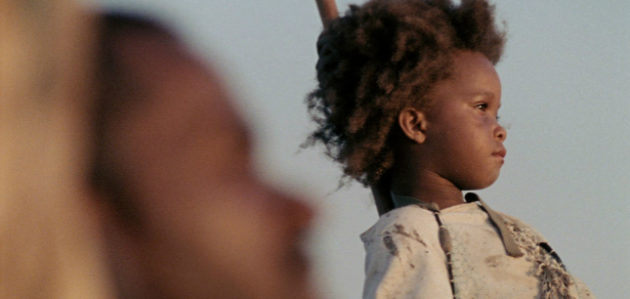 A community of survivors exists on the outskirts of a Louisiana levee, where a six-year-old girl with a boundless imagination and a deep connection to the world around her lives with her father. In Movieline's exclusive clip, enter the world of Benh Zeitlin's impressive feature debut/Sundance hit Beasts of the Southern Wild (in limited release this week), as seen through the eyes of the film's pint-sized heroine, Hushpuppy (played with tremendous fearlessness by discovery of the year, Quvenzhané Wallis).

Beasts of the Southern Wild debuted at the Sundance Film Festival in January, where it won the Grand Jury Prize and the Cinematography Award before nabbing four honors at Cannes, including the FIPRESCI Prize and the Caméra d'Or. Zeitlin's magical-realist fable is a deeply emotional experience, thanks in great part to Wallis's central turn as the fierce Hushpuppy, whose relationship with her troubled father Wink (local chef/baker Dwight Howard, in his acting debut) anchors the film. Plucked from over 4,000 prospective actresses, Wallis, who was just five years old when she auditioned, commands the screen with an impressive intensity and naturalism.
"When she first walked in, she was defiant towards me," director Zeitlin told Movieline. "Most of the times you figure you can easily puppeteer a kid, but she was not like that at all. She was refusing to do this thing that I asked her to, because she didn't it was right. I wanted her to throw something at somebody, and she said, 'No, that's not right to throw something at somebody you don't know.'
Filmed on location in Louisiana, Beasts began principal photography on April 20, 2010 — the day of the Deepwater Horizon oil spill, the impact of which mirrored the plight of the residents of the Bathtub within the film. The story celebrates the resilience of a community in the face of disaster, highlighting the spirit of the people who remain.
Beasts of the Southern Wild is in limited release today.
Follow Movieline on Twitter.