Cannes Winners: Michael Haneke's Amour Takes Palme d'Or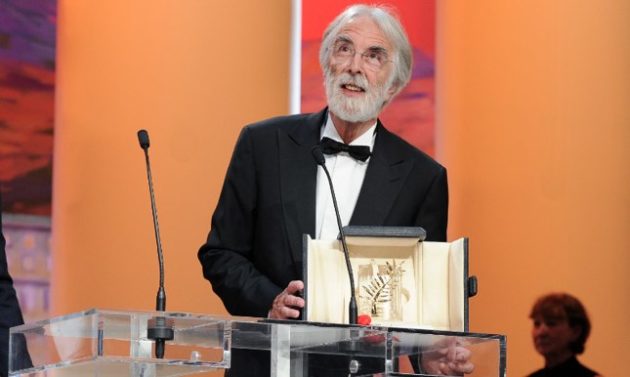 Michael Haneke's Amour won the Palme d'Or Sunday night in Cannes, capping the 65th edition of the festival. The film follows Georges (Jean-Louis Trintignant) and Anne (Emanuelle Riva) a couple in their 80s who must endure a long demise after Anne suffers an attack.

This is not Haneke's first time taking to the stage to accept Cannes' top prize. He won the Palme d'Or in 2009 for The White Ribbon and he took a Grand Jury Prize at the festival in 2001 for The Piano Teacher and in 2005 won Best Director for Caché.
In other prizes, Matteo Garrone's Reality won the Grand Jury Prize, while Ken Loach's Angels' Share took the Cannes Jury Prize. Sundance 2012 Best Film winner Beasts of the Southern Wild by Benh Zeitlin won the Camera d'Or for Best First Film, while Beyond the Hills by Cristian Mungiu took two awards, including Best Actress and Best Screenplay.
Garrone won the Grand Jury Prize in 2008 for Gomorrah, while Ken Loach won the Palme d'Or in 2006 for The Wind that Shakes the Barley.
"Cannes shows us cinema is not just a diversion, but shows how we live together," said Angels' Share director Ken Loach. "In these dark times, let's show our solidarity with those who resist austerity."
"This wasn't just my first film, it was the first film for almost everyone who made it," director Benh Zeitlin said from the Lumiére stage Sunday. "[Cannes] is a temple and you don't know if you're able to dance in the temple, and you can. Thank you, you've changed many people's lives."
The List of 2012 Cannes Film Festival winners:
Palme d'Or:

Amour by Michael Haneke
Grand Prix of the Jury:

Reality by Matteo Garrone
Prix de la Mise en Scene (Best Director):

Carlos Reygadas for Post Tenebras Lux
Prix du Scenario (Best Screenplay):

Cristian Mungiu for Beyond the Hills
Camera d'Or (Best First Feature):

Beasts of the Southern Wild, directed by Benh Zeitlin
Prix du Jury (Jury Prize):

The Angels' Share directed by Ken Loach
Prix d'interpretation feminine (Best Actress):

Cosmina Stratan and Cristina Flutur for Beyond the Hills directed by Cristian Mungiu
Prix d'interpretation masculine (Best Actor):

Mads Mikkelsen for Jagten, directed by Thomas Vinterberg
Palme d'Or (Short Film):

Silence (Sessis-Be Deng) directed by L. Rezan Yesilbas
Read more of Movieline's Cannes 2012 coverage here.
[Photo of Michael Haneke: Pascal Le Segretain/Getty Images]