WATCH: Joel Kinnaman In Way Over His Head in Martin Scorsese-Approved Easy Money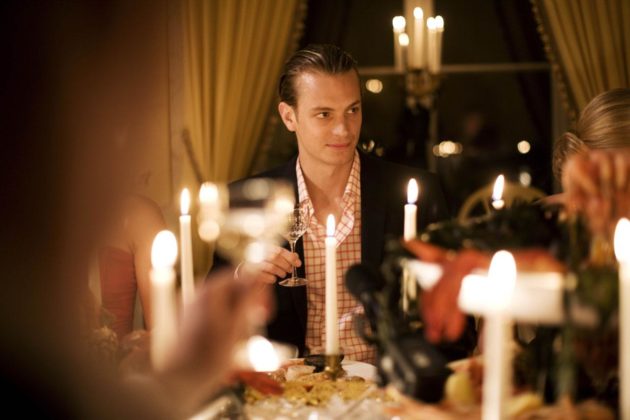 Before he skulked the streets of Seattle on The Killing and nabbed the role of Alex Murphy in the upcoming RoboCop reboot, Joel Kinnaman made a splash in his home country of Sweden with the crime drama Easy Money (nee Snabba Cash). The Weinstein Co. snapped up the pic, which also put director Daniel Espinoza (Safe House) on Hollywood's radar, and will debut it stateside this July... with the hefty endorsement of none other than Martin Scorsese. Finally (!) we have the first domestic trailer for Easy Money, in which Kinnaman's pretty-boy business major, craving the wealthy lifestyle he never had growing up, becomes entangled with warring crime lords in Stockholm and finds himself in way over his head.

In Easy Money, which screened to a packed house last weekend at the LA Film Fest, Kinnaman stars as JW, a small-town opportunist who attends business school by day and drives cabs at night. His dorm room walls are covered with fashion inserts from mens' magazines, the blueprints by which he fakes his way into the upper-class social circle that he longs to be a part of. There's a rich girl, Sophie, who catches his eye, and privileged bankers' sons he befriends, but as much as JW is consumed by his need to be accepted by into this world of wealth and class, he's acutely aware that he's living a lie.
Enter opportunity, in the form of local gangster Abdulkarim (Mahmut Suvakci), who has a task for JW: Pick up prison escapee Jorge (Matias Varela) for a small fortune, no questions asked. JW complies, seeing the chance to finally seize the life he dreams of. But as a rival gang's operative (Dragomir Mrsic) begins questioning his own priorities -- namely, the young daughter he hardly knows -- the stakes escalate as all players follow their own agendas in the pursuit of a payday.
Presented with English subtitles, Easy Money (based on the novel by Jens Lapidus) will be released on July 27, and as the domestic trailer hints at, Espinoza's storytelling transcends the language barriers; his weaving of storylines and character motivations becomes impressively engrossing as Easy Money reaches its climax, bolstered by solid performances and a layered editing style.
[Trailer debut via Apple]