The Perks of Being a Wallflower Trailer: Logan Lerman's So-Called Life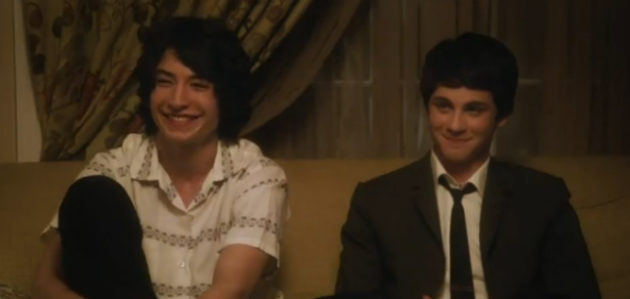 The Perks of Being a Wallflower stars Three Musketeers cutie Logan Lerman as introverted-but-adorbs high school freshman Charlie (Lerman), who enters teen society searching for like-minded "misfits" and finds Emma Watson and Ezra Miller (last seen making a very different impression on his classmates in We Need to Talk About Kevin). Is Charlie going to go all Angela Chase, narrating the brave new world of busting weird dance moves at Homecoming and standing up to bullies and shouting ironically at cheerleaders?

If you've read Stephen Chbosky's source novel of the same name, you already know what to expect -- and it's not quite as My So-Called Life-y as the trailer suggests. (Chbosky also writes and directs the film, with John Malkovich among producers who are onboard.) While we get a glimpse here of Paul Rudd as Charlie's teacher, there's not much of a peek at the rest of the cast, including Nicholas Braun, Johnny Simmons, Kate Walsh, Dylan McDermott, and Melanie Lynskey.
Still...
Verdict: In for the triple threat of young talent that is Lerman, Watson, and Miller alone. Bring the angst, kids.
The Perks of Being a Wallflower hits theaters on September 14.