Bling Ring First-Look: Emma Watson Struts For Sofia Coppola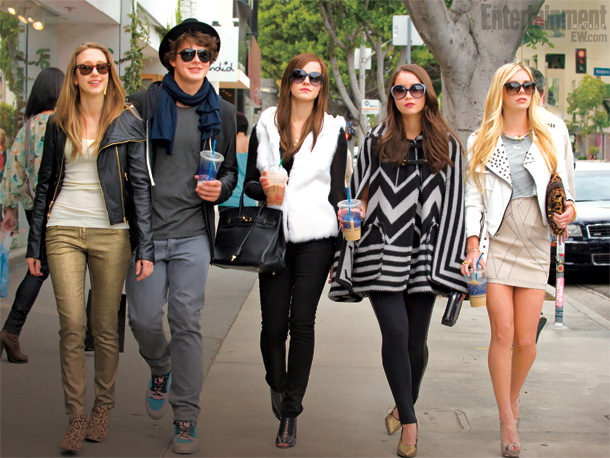 Here is the first image from Sofia Coppola's forthcoming The Bling Ring, which features Emma Watson leading a cabal of young thieves to the rich and famous. Clearly she means business! Are those Lindsay's Lohan's shades? Megan Fox's shoes? Paris Hilton's Frappuccino?

Watson talked to EW (which debuted the image) about her preparations for the role, which are about as Method as you can get under the circumstances:
"I just watched a ton of reality TV," she says. "I was doing an English course [at Brown University]. So I would go from reading Virginia Woolf to [watching] Kim Kardashian. I kind of loved it, this mix of super-high and super-low culture. I think it was a nice balance."
Poor thing. Anyway, joining Watson above are [L-R] Taissa Farmiga, Israel Broussard, Katie Chang and Claire Julien. The Bling Ring has yet to score a release date, though a fall-festival run seems likely, starting with Venice. Developing...