First Look: Elizabeth Olsen Gives a Glimpse of Erotic Thriller Therese Raquin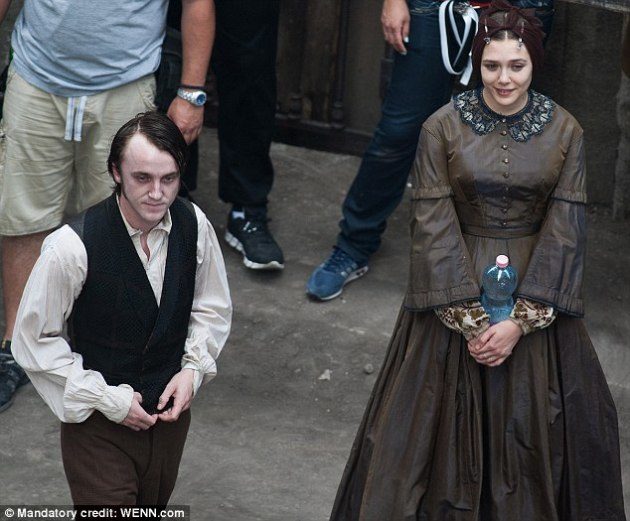 Elizabeth Olsen looks modestly dressed in her Victorian-era full-length dresses and hats for her role in the erotic thriller Therese Raquin, which she is currently filming in Budapest, Hungary. Olsen plays the title character Therese Raquin in this project, directed by Charlie Stratton and also starring Harry Potter's Tom Felton and Jessica Lange. Her character is apparently forced into a loveless marriage with her sickly cousin Camille, played by Fenton.

Young, beautiful and sexually repressed, Therese casts off innocence for a sizzling affair with her husband's best friend Laurent, played by Drive actor Oscar Isaac. Needless to say, her dress gets ripped off on numerous occasions, according to The Daily Mail, which featured a number of photos of Olsen on set. Lange plays Therese's controlling aunt, Madame Raquin, and the story crescendos as Therese's dalliances with Laurent produces disastrous outcomes. "Some of the film's themes will include the subjects of imprisonment and punishment, temperament and the human animal," noted The Daily Mail.
Olsen, 23, won praise last year for her starring role in Sundance indie Martha Marcy May Marlene and she will be seen this week in the Jane Fonda and Catherine Keener starrer Peace, Love, & Misunderstanding, which opens Friday.
[via Daily Mail]
[Photo credit: WENN.com]