Watch Alan Menken Play Songs from Newsies, Including His 1993 Razzie Winner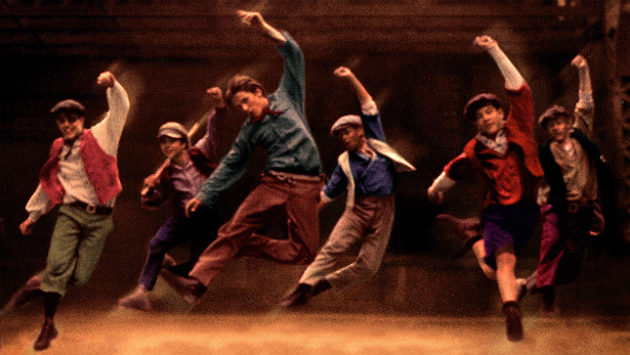 Newsies on Broadway has entered the national consciousness, so now I get to say this to all the rest of you: FINALLY. Join me, Fansies, in watching Oscar- and Grammy-winning composer Alan Menken tickle the ivories to a number of his best Newsies tunes from the 1992 cult movie and the Harvey Fierstein-penned Broadway adaptation, and consider: Did he really deserve that Razzie award?

Menken, of course, is the lauded composer of a number of modern Disney classics — The Little Mermaid, Beauty and the Beast, Aladdin, among others — and he's got a knack for turning out catchy numbers with unforgettable melodies. Well, except for the cabaret number "High Times, Hard Times," sung in the movie by Ann-Margret, playing the cougar songbird Medda. He likely would have gone his entire recent guest spot on the New York-area show Theater Talk (watch it below) if stage collaborator and fellow guest Fierstein hadn't cajoled, "Where's that song that won you the Razzie award?", prompting Menken to comply.
The number was never anyone's favorite ditty (Ann-Margret singing on a swing to a theater full of cat-calling young boys? SURE), and it was cut out in the adaptation process, but Menken seems to have a sense of humor about it now — and more importantly, he doesn't pronounce the word "chest" like "shest," which always made me cringe a little.
More fascinating in this half-hour show is how Menken and Fierstein run through the history and conception of their film-to-stage adaptation, acknowledging the perceived flaws in the film that they tweaked for their musical, which debuted in New Jersey's Paper Mill Playhouse last year so well that the show transitioned to Broadway.
Is it a slight bit of heresy to see how casually Fierstein dismisses Bill Pullman's newspaper man character Denton, who was hacked from the adaptation and combined with David's maddeningly useless sister Sarah, the axed pair morphing into one lady newspaper reporter love interest? Well, yeah. Do I understand my fellow hardcore Newsies fans who might be a bit upset to learn that Fierstein and Menken have so little love for the "Patrick's mother" character, a woman who sings literally two lines in one song in the film while looking for her runaway son in the town square? Absolutely. Some of us are purists.