Cannes: Robert Pattinson Holds Court in David Cronenberg's Cosmopolis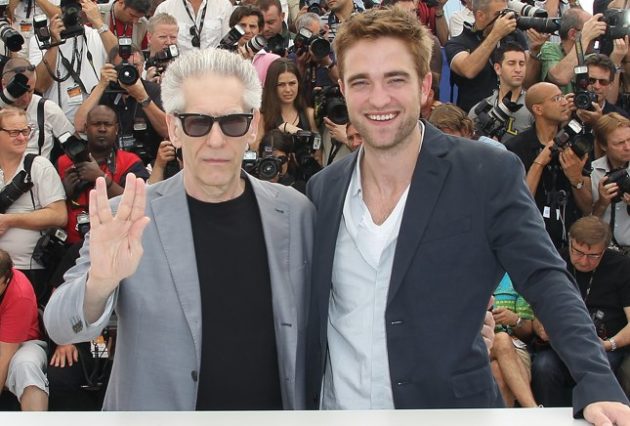 Moments before David Cronenberg, Robert Pattinson and the rest of the team from Cosmopolis appeared in a packed press conference room, a Cannes Film Festival spokesman said he had one request: "Please keep the conversation focused on Cosmopolis and not on vampires or bats or the such." "But what about blood-sucking capitalists?" a journalist asked.

Based on the novel by Don DeLillo, Cronenberg's latest stars the Twilight heartthrob as a 28 year-old billionaire assets manager who begins a day-long journey in his very tricked out limo as it inches its way through Manhattan. Eric Packer's (Pattinson) objective is simple enough — he wants to get a haircut. He has everything, so what else can fulfill him? Perched on his throne in the back of his stretch limo, Packer encounters individuals as his car meanders the packed New York City streets. Juliette Binoche, Paul Giamatti, Samantha Morton, Sarah Gadon and more represent his physical, material and intellectual desires as well as demise and some — but not all — joining him one-on-one in his inner sanctum.
"It was just like a series of mini-movies," Giamatti said Friday. His character's scene with Packer was one of only a few that take place outside the confines of his car. "Packer created this environment that is completely isolated and then forces people into his environment," said Cronenberg, who won a special jury prize in Cannes back in 1996 for Crash.
DeLillo said he found inspiration from simply observing limousines traipsing across New York City around the turn of the century. "Manhattan streets were filled with all these white stretched limousines at the time, and it is the last place on earth where such cars can move easily," he said. "So I began the novel thinking of one man in one car."
And that man in the car is, of course, Robert Pattinson, who admitted that he felt nervous in the days before shooting started on Cosmopolis and that preparation had been very minimal ahead of production.
"We didn't really rehearse much," said Pattinson, at one point blushing and nervously laughing as he stumbled over some words. "His camera placement totally affected the way I performed. I spent two weeks in my hotel room worrying and confusing myself," he said. "I called David to talk to him about it [and] I asked him one question, 'Want to talk about the movie for a bit?' So I went to his house and he said that it doesn't matter. 'Let's just start and let it happen.'" Pattinson added that the "lyricism and rhythms" of the script had attracted him to Cosmopolis and that unlike other movies he's appeared in, the script for this project — adapted by Cronenberg — was to be strictly used word-for-word.
"I didn't want to change any words and [Cronenberg] didn't want anything changed either," he said, then adding a quip, "Actors aren't supposed to be intelligent."
"It's like a Bob Dylan song: Everyone knows the words, and you don't change that," Cronenberg said. "There are great rhythms to the dialog and you don't mess with that. Each person who comes into the limo is an additional singer to the choir. If you have a great script, the dialogue gives you so much for the performer."
Read more of Movieline's Cannes 2012 coverage here.
[Top photo via Getty Images]