Pretty In Pinkgate: Is Duckie Gay? Jon Cryer Responds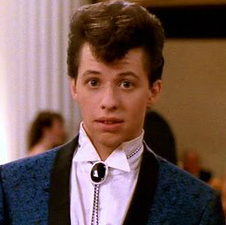 Earlier this week, John Hughes muse (and recent Reddit queen) Molly Ringwald set the record straight with Out.com on the sexuality of her Pretty in Pink character Andie's lovesick BFF, Duckie: ""Duckie doesn't know he's gay. I think he loves Andie in the way that [my gay best friend] always loved me." To which the world breathed a knowing sigh. "Of course Duckie is gay!" Thought everyone. Well, everyone except for, you know, Jon Cryer.

A day after Ringwald dropped the Duckie bomb, the Two and a Half Men star chimed in with an objection to Zap2It, admitting that the Duckman was easily prone to such speculation. That said, if anyone would know, it'd be Cryer... right?
"I respectfully disagree. I want to stand up for all the slightly effeminate dorks that are actually heterosexual. Just cause the gaydar is going off, doesn't mean your instruments aren't faulty. I've had to live with that, and that's okay."
Still, I'm with Ringwald when it comes to Duckie's romantic prospects with Andie and the alternate ending in which she chooses her squirrelly bestie over pretty boy Andrew McCarthy. She remembered the Duckie ending feeling not quite right:
That ending fell so flat -- it bombed at all the screenings. I didn't realize it then -- I just knew that my character shouldn't end up with him, because we didn't have that sort of chemistry. If John was here now, and I could talk to him, I think that he would completely acknowledge that.
That said, how could you not love a boy who sings you Otis Redding?
[via Zap2It]