Sacha Baron Cohen Gives Dictator Interview... as Sacha Baron Cohen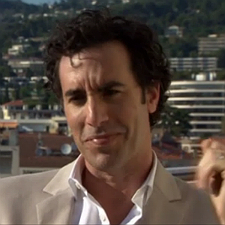 After a whirlwind press tour spent stymieing journalists in character as his General Aladeen of the Republic of Wadiya, Dictator comedian Sacha Baron Cohen sat with the BBC for a rare straight interview — no costume, no shenanigans, no spilling the ashes of late despots on unsuspecting talking heads. The result: An actually coherent, fascinating filmed chat with Cohen about toeing the line of sensitivity with his despotism comedy, why he almost never gives interviews as himself, and how he took inspiration from the "ludicrous" power-hungry dictators of the world.

Cohen (who's rather handsome when not in character!) spoke with BBC reporter Will Gompertz in Cannes, citing a few of his favorite dictators, so to speak:
"I had always found Colonel Gaddafi hilarious, and I wanted to do a character that was inspired by him. I had all these other ludicrous characters like Türkmenbaşy, who was the president and dictator of Turkmenistan, who renamed the day Thursday and the word for bread after his mother. When the doctor told him to give up smoking, he banned smoking from the whole country because he didn't want to be reminded of cigarettes. And then you had someone like Kim Jong-il who claimed to have hit nine holes in one in his first ever game of golf. And obviously Colonel Gaddafi who had these 30 virgin guards, dressed unintentionally like a 60-year-old woman and would often break wind when being interviewed for the BBC..."
To read Movieline's review of The Dictator, head here.
[via BBC]