Rock of Ages Clip: Mary J. Blige Sings Journey for Strippers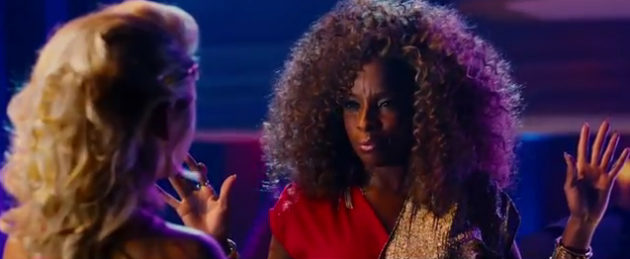 Here's what I've been waiting for with all these pseudo-karaoke Rock of Ages glimpses we've endured: A look at Mary J. Blige — the realest singer in the cast, if you ask me — doing her thing. Watch as Mary J. as Justice Charlier drops the 411 on neophyte exotic dancer Julianne Hough to the sounds of Journey's "Any Way You Want It," which is apparently the rallying empowerment anthem of strippers everywhere circa 1987.

All these choreographed limbs and intentionally cheesy-bombastic rock 'n' roll faces are actually... growing on me. That said, I can't quite figure out what kind of '80s getup Hough is wearing here. What is that, Xanadu-chic?
Rock of Ages is in theaters June 15.