The Rock of Ages Trailer: Ruining Karaoke For the Rest of Us
Real talk: the new trailer for Adam Shankman's Rock of Ages musical embodies all that people who hate karaoke hate karaoke for. Namely, middle-aged folks blaring through cheesy renditions of their favorite '80s make-out/rock songs while the rest of us patiently wait for the plaintive strains of Journey to end, already. I say this as a person who likes -- nay, loves -- karaoke. Sigh. The Twisted Sister/Starship mash-up you really never asked for coming in 3, 2, 1.
Okay, okay. I'll admit to crooning "Sister Christian" from time to time, but even I can't take one more unironic warbling of "Any Way You Want It;" I absolutely draw the line at "I Love Rock 'n' Roll." (Didn't we talk about this the other week?)
Issue #2: The '80s are so, so over. The '90s are the new '80s, people. Get with it already.
Another way of looking at Rock of Ages, as evidenced by the trailer: It's Glee, only with grownups and set in 1987. Take that as you will. Watch it now:
Chris D'Arienzo's original jukebox Broadway musical used these songs and many more iconic '80s rock tunes; expect Shankman to stay true to the songbook as he retells the fictional story of a Sunset Strip club under threat of redevelopment, where a wannabe musician (Diego Boneta), a waitress-turned-stripper (Julianne Hough), and a sleazy, jaded rock star (Tom Cruise) cross paths.
Admittedly, I perked up a bit when Catherine Zeta-Jones and her ladies who lunch began dancing and singing in their power suits... and, um, can we talk about Malin Akerman?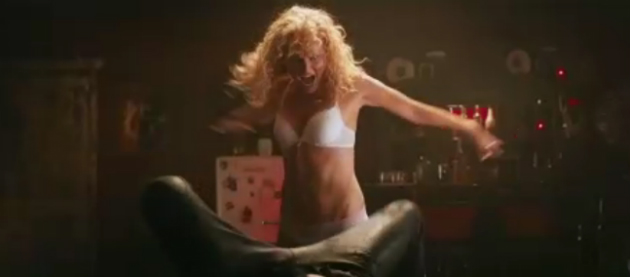 Verdict: I will grudgingly see this (for the monkey and for Mary J. Blige, the best -- only? -- singer in the cast). But can we seriously institute a no more "I Love Rock 'n' Roll" karaoke rule from now on? Mmkay thanks.
Rock of Ages will shriek its way into theaters on June 1, 2012.
[Apple via Rope of Silicon]