Taylor Lautner, Tracers Promise the 'Hottest Thing on Two Wheels'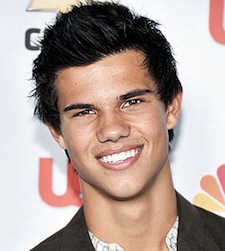 So you may have heard that Robert Pattinson and Kristen Stewart have business this week at Cannes. Where does that leave Twilight Saga third wheel Taylor Lautner in the post-franchise wilderness? Good question! Because I have no idea what to make of the movie he's attached to at the Cannes Film Market.

Behold Tracers, the announcemnet of which just trickled over the transom at ML HQ. Synopsis emphasis mine, naturally:
TAYLOR LAUTNER TO STAR IN THE FAST-PACED PARKOUR THRILLER TRACERS
FilmNation Entertainment to Handle International Sales Starting at Cannes

Los Angeles, May 14, 2012 – FilmNation Entertainment will introduce the action thriller TRACERS to international buyers at the Cannes Film Festival. From the producers of Twilight and Dear John, TRACERS will star Taylor Lautner (The Twilight Saga, Abduction) and will be directed by Daniel Benmayor (Bruc, the Manhunt). Marty Bowen and Wyck Godfrey of Temple Hill Entertainment will produce. WME will handle sales in the US.

New York City bicycle messenger, Cam (Lautner) is the hottest thing on two wheels, but is in debt to an organized crime gang. When he crashes his bike into a sexy stranger, Nikki, Cam is immediately seduced by her and the thrill of the world of parkour.

At Cannes, FilmNation Entertainment is also handling international sales on THE BLING RING from director Sofia Coppola. In addition, FilmNation has two in-competition titles: LAWLESS from director John Hillcoat starring Shia LaBeouf and Tom Hardy; and Jeff Nichols' MUD which is also produced by FilmNation's Aaron Ryder, starring Matthew McConaughey and Reese Witherspoon.
"The hottest thing on two wheels"? "Crashes his bike into a sexy stranger"? "The thrill of the world of parkour"? Look out, Abduction — Tracers will see your crazy and raise you a dated action genre. I can only presume that if you buy the rights to Bling Ring, Lawless, and Mud, FilmNation will throw Tracers in for free, but don't take my word for it. We'll let you know what we find out on the Croisette.
Read all of Movieline's Cannes coverage here.