The Only Devon Sawa Interview You Will Ever Need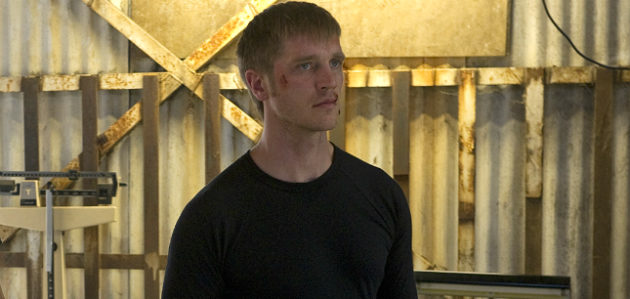 If you were a movie-watching child of the '90s (or, shall we say, an adolescent girl with a pulse) you knew Devon Sawa as a teen idol golden boy of the decade. But after a little more than a dozen years as an actor — during which time he graduated from kiddie fare (Little Giants, Casper, Now & Then) to Tiger Beat bait (Wild America) to what he calls his "edgy" phase (SLC Punk, Idle Hands, Final Destination, Slackers, and Eminem's "Stan" video), Sawa departed Hollywood to reassess his career, not knowing if he'd return to acting.

During his self-imposed exile from the spotlight — and the party culture and poor career choices that he admits marked his mid-aughts — Sawa spent time in Southeast Asia. He trained in muy thai. He restored a heritage building in his hometown of Vancouver, British Columbia. By the time a script serendipitously found its way to his mailbox, enticing him back into the acting game after his years-long absence, Sawa was ready to start fresh. A celebrated guest turn as reformed assassin Owen Elliot on The CW's sleeper hit Nikita followed, along with turns in the Toronto Film Festival thriller 388 Arletta Avenue, the indie horror pic The Sibling, and this week's After Dark Action slate offering, The Philly Kid.
Movieline met with Sawa to discuss (OK, obsess over) his beloved '90s films and the disparate fan followings they inspired, the unexpected similarities between directors Steven Spielberg and Dr. Dre, how he spent his four years away from acting, and why it's always OK to give your phone number to the Coen brothers.
What brought you to The Philly Kid in the first place? You aren't playing the hero here, but rather a more vulnerable character, which I thought was a more interesting choice.
First of all, when I read the script the lead was already cast with Wes [Chatham] and he couldn't have done a better job, but this was appealing to me because he's kind of the guy who doesn't care anymore; he's got the slouch, and he drinks, and he's got a gambling problem. It's a character I've never played before and I wanted to be that character that doesn't worry so much about the way he looks, you know what I mean?
You play the friend who sucks Wes's Dillon back into fighting, part Paulie from Rocky and part Worm from Rounders…
The thing about Jake is that he's a likeable guy, he's a loveable guy, and that's what makes Dillon want to help him out. He doesn't ever mean to do anything wrong, he's just got no filter and he makes the wrong decisions… a lot. But he means well.
Given your sports training, have you considered taking the action hero route? Or do you have a different path in mind?
Acting first. I want to do action, but I don't want to be the guy who does just action. I've been working a lot on character, and I want to be able to do what Pacino and Hoffman do. But I still love doing action, so I'm trying to do both.
You've done a number of indie movies as well as Nikita in the last few years — where did this project fit in?
It came at the right time. It was the end of season one of Nikita so I knew for sure I wasn't working on that. My agent called and said there was this MMA script, and I was like, "Oh, let me read it!" Baton Rouge was a big part of it because I love the South, and being from Canada it's like the polar opposite — the food, the feel... I just love it down there. So it just fell in place.
Obviously many of us have been watching your career from the start, but audiences really caught up with you in recent years thanks to your recurring role on Nikita.
I took a break at the age of 25 just to step away from the business and figure things out — figure out if I wanted to do this anymore because I'd been working straight from the age of 11. And when I came back after four or five years, it was kind of like starting fresh again. People hadn't seen me in a while, the last things they saw me in were some indie horror movies that I'm not really proud of, and the Nikita people were the first to step up and take a shot at me — "OK, let's see him." I went in and read with them and it went great, and that opened up a whole bunch of new doors. That's why I love them so much. A lot of people were like, "Eh, Devon, we haven't seen him in a while — what's he been doing?" And Nikita was like, "Sure, this could work." It was supposed to be for two episodes, but I got on there and it's still going.
It must be curious to have the experience of being famous as a child actor, and getting all the way to age 25 then stepping away and coming back. Between your early work, your Nikita work, and your newfound Twitter fame, what do you think has helped you most get back in the game?
Nikita, for sure. I love Twitter. [Laughs] I don't know if it's really helped, but it's a lot of fun. I have friends that are on The Vampire Diaries now that I met through Twitter. It's a great thing, but I don't know whether it's helped or not.
In ways you're more candid on Twitter than most actors, which is part of why I think folks like to follow you.
It's not doing anything wrong, that's for sure. No one's told me to stop. I dread the call from my manager saying, 'Did you really say this on Twitter?' But you never know.
Let's go back to the beginning. You began acting at a young age, which is when you first made a name for yourself. Tell me about your childhood…
I had a great childhood! I started doing Nerf commercials — I was the national Nerf spokeskid, which was my first kind of big thing.
Did you know then that you wanted to act for a living?
Yeah, I was a very energetic kid in grade 5 and started doing theater, traveling with this group doing all the elementary schools. I just loved it, I loved being on stage. Then I auditioned for the Nerf thing and got that, loved that — I ran around shooting Nerf guns.
How can any kid complain about that?
Exactly. And at the end of every commercial they'd give me a big box of these Nerf guns that the prop guy would put different springs in to make them shoot farther! So it was great. And then Casper came along. As a kid I was doing school with Christina Ricci and then Jonathan Taylor Thomas, going to Savannah, so it was all great. Then after Wild America when I was 17 I stepped away for two years, and came back, and I was going through that phase where I didn't want to be in those teen magazines anymore. I was really against those things.
That seems like the toughest transition for a child actor to make, out of adolescence and teen years into young adulthood.
It really was. I wanted to do edgy, weird stuff, like SLC Punk and Idle Hands and the "Stan" video. That's when I was in my weird phase. I guess it worked out.
I admit I was enamored of Little Giants and Now & Then, but I have a friend who's obsessed with Slackers. Like a number of your films, it has quite the cult following.
There were a certain couple of years in college when I think that was a big movie! My agent's assistant was like, "I love Slackers!" And he started reciting a scene that I don't even remember. I'm like, "OK, dude!" I guess people like that. And I was really, really proud that Idle Hands made it to the New Beverly Cinema last year. That's when you know you're in a cult hit.
Did you go?
I didn't. But the next one…
How often do you go to the New Beverly? Because I swear I saw you there once, which is when I became aware that you were a fan of the theater and a huge movie nerd.
You did. I am. I used to go all the time, but now I'm in Woodland Hills. I go to the Aero theater more, but I love them both. I really am a movie nerd. I love going to see the old films on the big screen. I just saw a new print of West Side Story at the Aero theater and that was great, I went to see back to back Indiana Joneses, back to back Godfathers… it's the only way to see them.
So, back to this edgy phase. Slackers, Idle Hands — those films came right before your self-imposed break from Hollywood. What prompted that?
That was the point when the fame, or whatever — what club or what party I was going to — became more important. Then I started doing some movies that I wasn't so proud of. They were kind of straight-to-DVD horror movies and whatnot.
Why do you think you were doing those movies?
They threw a little money at you, and you want to work, and you think they're going to do better — it sounds good on paper — and then it comes out and somewhere down the line, something didn't work out. And I wasn't really proud of them, so I stepped away.
Pages: 1 2